Everything you need to know about the Postgraduate Diploma in Education tuition fees is published on the main University of Sheffield website.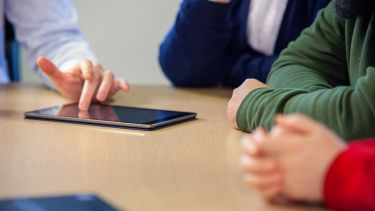 Tuition fee
The PGDE is a postgraduate course that has undergraduate fee status.
---
Bursaries and scholarships
Information about eligibility for a Training Bursary can be found on GOV.UK's Funding: Initial Teacher Training guidance pages, please click here.
Further information about bursaries and scholarships is available on the Get into Teaching webpages.
Additional costs
There are some additional items which are not included in the course fee. Some general examples are listed below:
DBS - please see below
Additional travel costs
Accommodation and living costs
Stationery
Optional books or texts – personal copies will not be included in the tuition fee
Optional field trips - where students have the option to go to alternative destinations, they may have to contribute part of the cost
Electrical equipment e.g. laptops, digital cameras and calculators
Resitting exams including professional accreditation exams
Travel, accommodation and living costs for school experience and field trips
General printing and photocopying, including for dissertations and coursework
Other charges for the Sheffield Graduate Award, replacement Ucards/ transcripts/ degree certificates, late registration
DBS, work health assessment and safeguarding training
As this course leads to a professional qualification, student teachers will be required to undertake a Disclosure and Barring Service Enhanced Disclosure and Work Health Assessment and complete Safeguarding training. The anticipated cost for these for 2023 entry is £64*. Student teachers who have already paid for a previous DBS Enhanced Disclosure and signed up to the DBS update service (Enhanced level - Children's barred list) may pay a reduced fee (anticipated cost £26*). 
Non-UK clearance
Student teachers who have spent 3 consecutive months or more in the past 5 years must provide evidence of a clean criminal record (non-UK clearance) from the relevant country (or countries) and will be required to pay the appropriate fee(s).

Further information about DBS and Non-UK clearance will be provided to offer holders before the start of the course.

*As we use external companies to undertake training and checks, should you decide to withdraw your application or you do not meet the conditions of your DfE Teacher Training offer we are unable to offer a refund.  Please also note that these fees may be subject to change.