A major element of the Campus Masterplan involves improving some of our key spaces, not only for our own students and staff to enjoy, but also for the wider Sheffield community.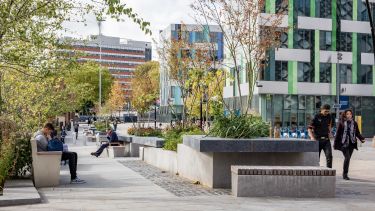 The overall aim is to create a safe, high quality walking and cycling route from Mappin Street to the Arts Tower, linking the campus and connecting with the existing high quality Gold Route, which includes Devonshire Green, Barkers Pool, the Peace Gardens, Hallam Square and Station Square.
The North Campus and associated housing in St Vincent's will also be better connected to the main University.
Other key areas for improvement:
The Arts Tower Court will be closed to cars and landscaped to include a water feature, many more trees, a lawn, a café and lots of seating. It will also be linked to Weston Park via a garden terrace.
St George's Green will be reshaped to create much more usable green space at the heart of the campus, with trees, meadow and hedgerow planting.
A new public route will be established through the North Campus, linking Broad Lane to Solly Street and the new Edward Street Park, along with improvements to the public space around the Montgomery Fountain.
---
Leavygreave Road (east) and part of Portobello Street are now closed to cars and buses, providing shared space for pedestrians and cyclists, with better paving and seating, lots of trees and other plants. Victoria Street, Gell Street and Regent Terrace have become a culs-de-sac with access only.
They are now a popular area for meeting and enjoying lunch breaks in the sunshine. Staff and students benefit from the pedestrianised section past Jessop West, the Department of Music and the Diamond.
Leavygreave Road (west), Favell Road and Hounsfield Road have been improved with new paving and planting. Some this area is now pedestrianised or the roads are now one-way only.
Western Bank has new and relocated pedestrian and cycle crossings.
Upper Hanover Street has improved crossings for pedestrians and cyclists including plants and trees.
Improvements to Durham Road have been made to allow bus re-routing. The new Q Park is open for staff, students, visitors to Sheffield Children's Hospital, and the general public.
---
You can either download the full Campus Masterplan document or take a look at our section downloads.
Download the full Campus Masterplan document
Full Campus Masterplan document (PDF, 24MB)
Individual Campus Plan section downloads
A world top-100 university
We're a world top-100 university renowned for the excellence, impact and distinctiveness of our research-led learning and teaching.