Biodiversity is the variety of life on earth and includes all species of plants, animals and the natural systems that support them.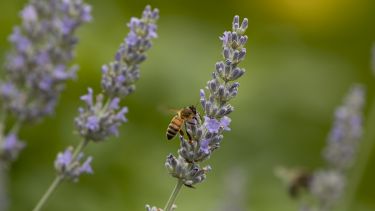 It has an intrinsic value and is also the earth's life support system, providing essential services ranging from clean water and air, crop pollination and products such as coal and timber, through to the potential to help in flood mitigation and alleviating the effects of climate change.
Culturally, biodiversity provides opportunities for recreation and tourism and contributes to wellbeing.
Sadly it is under threat, both globally and nationally, and preserving it is a now major challenge.
The University of Sheffield aims to operate in a sustainable way and to minimise its impact on the environment. Part of this commitment includes protecting and enhancing biodiversity on campus and within the city.
---
Biodiversity Action Plan
As an environmentally responsible organisation that owns and manages a significant area of green space, the University made a commitment to develop a Biodiversity Action Plan in the corporate Environmental Policy when it was reviewed in 2008.
The University's Biodiversity Action Plan identifies opportunities to protect and enhance the biodiversity value of our green space, and fits within the context of national, regional and local action plans.
It aims to maximise the ecological value the university's green space for the benefit of a wide range of flora and fauna, whilst at the same time retaining its functional value.
The long term vision is not only to increase the amount of green space the university has, but improve the biodiversity value of the existing estate and to contribute, where possible, to local, regional and national biodiversity targets.
The university's green space will also be managed and developed so that it provides positive benefits and psychological well-being to students, employees and other users of the university estate.
The steering group has approached the production of the BAP differently to contemporary models.
Rather than focussing on the traditional format of Habitat Action Plans and Species Action Plans, the UoS BAP focuses on a range of themes through which biodiversity can be improved, for example, amenity planting and development projects.
Read our Biodiversity Action Plan (PDF)
---
Managing the University's green spaces - the Landscape Services team
Our team and approach

The EFM Landscape Services team is responsible for the proactive landscape management of the University's diverse range of green spaces.

By planning and carrying out regular grounds maintenance, they provide a pleasant physical environment for staff, students, visitors and commuters. The team want to increase the green space coverage of the campus, and increase the quality and consistency of planting throughout. They aim to create a positive learning environment using an agreed palette of planting that will benefit users of the estate and encourage wildlife to our campus.

As an environmentally responsible organisation, we have a Biodiversity Action Plan.This document sets out the aims and objectives for the way we manage our estate to improve biodiversity, set aims, set objectives, create a vision, and be legally compliant.

The plan specifies that a minimum of 50 per cent of new and replacement planting species are selected from the Biodiversity Action Plan's approved planting list. Planting schemes throughout the University are selected to provide successional flowering and nectar sources for wildlife.

Our planting strategy creates a strong identity for the university's public realm, whilst supporting opportunities for improving habitat types that are both viable and appropriate within urban locations. We aim to create a distinctive and unique planting scheme that is consistent and provides the external estate with identity.

Pesticides, herbicides, compost, machinery and waste

The use of pesticides on campus is currently restricted to glyphosate, with the team currently trailing alternative and safer herbicides.The use of herbicides on campus has been significantly reduced with them used for hard standing weed treatment only, selective treatment on our playing fields, stem injection for knotweed, and for preparation of perennial meadows. The team uses water droplet systems for applying herbicide to target the problematic weeds and reduce the risk of over spraying or drifting.

PAS 100 compost is used to plant our external schemes, being locally sourced from a local social enterprise. The compost is mixed with existing soils with the compost consisting of locally sourced, naturally recycled green waste. All compost purchased for use on the estate must be peat free. The green waste produced by the team is segregated and it is all placed in one of our green waste skips. The green waste is recycled by our contractors and does not go to landfill.

Landscape Services are also successively moving to the use of electric power tools and equipment to reduce noise and emissions levels caused by petrol powered machinery.

Our improvements to campus

Currently the University estate has six perennial meadows with a total area of 1000 metres-squared, with the meadows bringing elements of the countryside to campus. They support a diverse range of insects, which attract birds and animals. The University is committed to annually increasing coverage of meadow planting.

Some of you may have noticed the increase in bulb planting as well. They are planted each November and provide early season colour and nectar sources.

Our estate has a number of buildings which have either had planned green roofs installed during construction, or have had green roofs fitted retrospectively. They are maintained annually to remove unwanted species and prevent damage to the building fabric.

Not all of our grassland is closely mown, with differential mowing evident throughout the estate. At the residences, we leave several areas of grassland to grow long to create a microhabitat, which will encourage insects, mammals and birds to visit. Leaving the grasses to grow will let them set seed and allow flowers to bloom. Perennial meadow seed is added to the long grass areas during the autumn months to add colour and increase the wildflower value.

Our nursery at Endcliffe provides a wide range of plants to be used on our estate, currently supplying in excess of 50% of annuals. It also provides both winter and summer hanging baskets and a space to grow and care for trees and plants.

We are committed to supporting and encouraging wildlife and, where possible, ensure new and existing planting schemes promote migration and nesting opportunities. We work closely with the Hedgehog Friendly Campus team on how we encourage and protect hedgehogs, and communicate this with the grounds maintenance teams. All watercourses have access ramps for wildlife to exit safely.

Not all of us are lucky enough to work in the great outdoors, so in order to bring elements of nature into our university buildings we provide specimen interior plants for office and community spaces.

Managing our green spaces

Management plans have been written for four locations - the University's residences, Belgrave Woodland, Norton Sports Park and Bradfield Environmental Centre.The plans set out the University's long-term vision, aims, and objectives for each of the sites. The Biodiversity Steering Group reviews the management plans on a regular basis.

Our landscape is managed to protect and encourage wildlife with the ideology of nature living alongside our vibrant estate. In order to prevent disturbing wildlife, planned tree and hedge cutting works are not carried out during the nesting period. From time to time emergency tree works are required during the nesting period and minor hedge cutting - in the event of any health and safety works the team carry out a pre-works wildlife check sheet. Any works carried out during the nesting period must adhere to the policy of carrying out and recording an assessment for bird nesting or wildlife activity. Any tree works that have the potential to impact on badgers or bats are subjected to specialist surveys prior to implementing works, with recommendations followed.

Safety and compliance

During periods of cold weather, the landscape team is responsible for the effective delivery of the cold weather programme, including localised gritting. The programme is delivered to provide safe access to University staff during the working day.

The Landscape Services team is also responsible for legislative compliance and the long-term care for all trees located on the University's estate. Click here for more information.
---
Downloads - management of our land
A world top-100 university
We're a world top-100 university renowned for the excellence, impact and distinctiveness of our research-led learning and teaching.