Ash Dieback Disease and our approach
Ash Dieback, also known as Chalara dieback of ash, is a serious fungal disease that is killing ash across Europe. Ash is a very important tree in the UK so this disease is causing great concern about the damage it will do.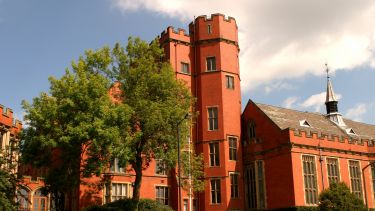 Off
The disease has spread to some of the University's trees.  We carry out an ash dieback survey every June/July working with Sheffield Tree Care.  The disease is a significant issue for us as Ash trees make up around 6% of our 10,500 trees.
In 2019 we developed an action plan and policy to help guide us to tackle the issue over the next five years.  
We engage with community groups such as Sheffield Tree Action Group (STAG) to ensure our plans and policy are as transparent as possible.
---
Frequently asked questions
What is Ash Dieback?
One of our arboricultural partners Sheffield Tree Care have provided detailed information on their website.
What is the University doing about it?
We will continue to inspect all our ash trees for signs of Ash Dieback disease. Trees that are affected are being closely monitored to make sure they are safe, but we will continue to need to fell a number of ash trees as they become dangerous.
We will continue to update our news pages with information about tree works and removals.
Why do they need to be felled?
Trees suffering with the disease will eventually die or become weakened over time. Weak trees may cause damage and become a hazard to our students, staff, the general public, buildings or vehicles.
Whilst Ash Dieback threatens the University's ambition to protect the environment and to support biodiversity improvements, ensuring that diseased trees are managed proactively will mean that there will be opportunities to replant areas with trees that are more resilient to climate change, offer more benefits to biodiversity and protecting the distinctiveness of the University's landscape.
Our policy is to replace every tree we have to fell with at least two other trees.  Where we have to fell and remove Ash trees we companion plant suiting the site, taking into consideration surrounding plants, buildings and footfall.
A global reputation
Sheffield is a research university with a global reputation for excellence. We're a member of the Russell Group: one of the 24 leading UK universities for research and teaching.