Social Sciences building reaches new heights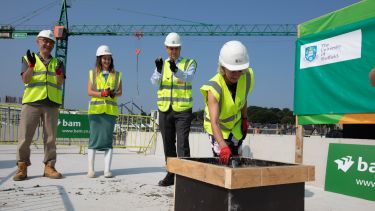 To celebrate reaching the highest point on the new Social Sciences Hub building, a small delegation from the University and constructor BAM gathered for a topping out ceremony.
Work continues apace with the building which, following BAM's rectification of issues with the foundations, is now on track for completion in late 2022.
In the glorious sunshine, guests were able to sign part of the steel frame and trowelled off a vessel of cement to honour the occasion. Keith Lilley, who welcomed the delegation including Students' Union President Evie Croxford, said: "It's a true pleasure to reach this milestone at the Social Sciences Hub - this project has been over ten years in the making and now we cannot wait to introduce our staff and students to the incredible building. It's testament to the hard work, persistence and collaborative working of all parties involved that we were able to gather and celebrate this occasion."
Professor Gill Valentine, Provost and Deputy Vice-Chancellor, addressed the delegation on the roof, commending them on reaching the top. She added: "This building will be absolutely transformational for our University. As a home for our Faculty of Social Sciences, it will improve learning for students through its new collaborative teaching and social spaces and offers a wide range of social sciences disciplines under the same roof for the first time.
"We're incredibly proud that this building has been designed with sustainability at its core, in line with our University Sustainability Strategy. This is our most ambitious project to date and has fantastic green credentials. For example, the innovative ground source heat pump is a huge step forward in sustainable energy for the University."
The building will be open to staff and students in 2023.
A world top-100 university
We're a world top-100 university renowned for the excellence, impact and distinctiveness of our research-led learning and teaching.