Scaffolding has been put up around the North, East and South sides of Howarth (Chemistry West) building.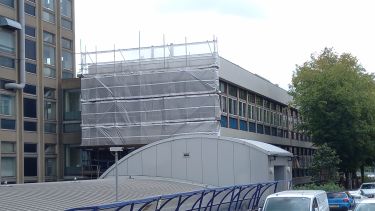 August 2022
The building is suffering from deterioration of the external tile mosaics and scaffolding is a necessary measure to provide a controlled environment for any mosaics that come loose.  The West side (Arts Tower car park) does not require scaffolding as no people or vehicles are able to access that side.
The University has recently approved the planning phase for a new facility to be developed. A new Central Teaching Laboratory (CTL) building is planned and is currently in development. 
The scaffold protection will therefore stay in place on the Howarth Building until the proposed new building is approved for development. At that time a decision will be made about the longevity of the Howarth Building. One of the options being actively considered is the removal of the building due to condition. Further information will be provided during the next year on options for the future. In the meantime the scaffold will need to remain in situ. 
Remediation works at the present time are not considered appropriate due to significant access costs associated with undertaking these works.  These works are not viable with consideration for the future demolition of the building.
The scaffold incorporates a flame retardant and opaque wrap to continue to allow light into the building. In addition to the scaffolding, wooden hoardings, 2.4m high, will be put up around the whole building at ground level.
The courtyard area (east side) has restricted vehicular access - through the roller shutter door due to the erection of the scaffold.  Car parking is not available. Pedestrian access will still be available through the roller shutters.
Please be assured that we continue to closely monitor the building to ensure it is completely safe for use.