We are working to provide a more comfortable and sustainable environment for University Library users, by upgrading the ventilation and cooling system, as well as the overall air quality in Western Bank Library.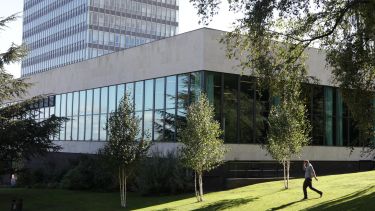 Off
The ventilation and cooling system works are now complete. A further phase of works to improve office facilities on floor 6 are in the process of being designed, and work will start summer 2023, completing October 2023. Student spaces are not expected to be affected by this work
Project aims
Opened in 1959, this Grade II* listed building is very popular with students, staff and visitors. The project was paused in 2021 so that the Library could reopen post-covid restrictions. The final phase of improvements, in collaboration with Historic England and Sheffield City Council has now been completed.
The new ventilation and cooling system is more efficient. Solar film has been applied to the external windows to help decrease room overheating. New LED lighting with solar and occupancy controls help to reduce energy wastage. As part of the work, we also took the opportunity to have a significant heritage item, a wall hanging currently displayed on level 5, conserved and restored. 
Project details
Project Manager: Brian Evans, Estates and Facilities Management
Email: b.n.evans@sheffield.ac.uk
Client: The University Library
Location: Western Bank Library
A global reputation
Sheffield is a research university with a global reputation for excellence. We're a member of the Russell Group: one of the 24 leading UK universities for research and teaching.