We are working to provide a more comfortable and sustainable environment for University Library users, by upgrading the ventilation and cooling system, as well as the overall air quality in Western Bank Library.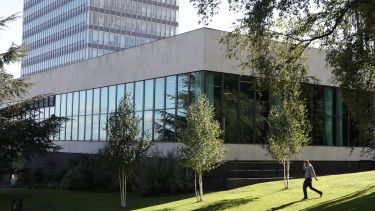 Overview
Opened in 1959, this Grade II* listed building is very popular with students, staff and visitors. The project was paused in 2021 so that the Library could reopen post-covid restrictions. We are now embarking on the final phase of improvements, in collaboration with Historic England and Sheffield City Council.
Impact on Library users
The work will start from 1 August 2022. We had planned to start the work in early June but due to worldwide construction industry supply chain issues, the parts needed are delayed. We delayed the work so that visitors could continue to enjoy the Library whilst we waited for these.
As a consequence the work is being divided into two phases so that the Library can be fully open for the start of term in September. It will  remain open for seven weeks until the start of November. There will be further closure to complete the works up to the end of December. If any further changes are needed to the schedule due to unforeseen issues, details will be provided on this page.
Study Spaces on all levels of the library will be closed for each phase but book request collection, and bookable browsing access to print collections will be available throughout - subject to limited access to sequences in the Main Reading Room in line with health & safety considerations. 
Work is underway to provide students with alternative study space and as soon as this is confirmed, details will be provided on this page.
The Special Collections, Heritage and Archives Reading Room will remain open throughout the period.
28 June 2022 - current schedule of work
Dates
Study Spaces (all levels)
Alternative Study Space
Special Collections, Heritage and Archive Reading Rooms

1 August -

18 September 2022

CLOSED

Book Request collection
Bookable browsing access print collections

OPEN - Location TBC
OPEN

19 September -

4 November 2022

OPEN
Not applicable
OPEN

5 November 2022 -

2 January 2023

CLOSED

Book Request collection
Bookable browsing access print collections

OPEN - Location TBC
OPEN
Project aims
The new ventilation and cooling system will be more efficient. Solar film applied to the external windows will decrease room overheating. New LED lighting with solar and occupancy controls will reduce energy wastage. As part of this work, we are also taking the opportunity to have a significant heritage item, a wall hanging currently displayed on level 5, conserved and restored. 
We will provide regular updates on this project page as soon as we have more information.
Project details
Project Manager: Brian Evans, Estates and Facilities Management
Email: b.n.evans@sheffield.ac.uk
Client: The University Library
Location: Western Bank Library
A world top-100 university
We're a world top-100 university renowned for the excellence, impact and distinctiveness of our research-led learning and teaching.