Engineering the Future Scholarship
What interdisciplinary challenge might we tackle in the in the next 50 years and what might your role be in solving them?
We are offering three Engineering the Future scholarships worth £1500 each for Undergraduate students intending to commence their studies in 2023. 
Eligibility
You must:
Submit a one-to-two minute video addressing how interdisciplinary engineering may be used to enhance the way we live, work, travel and communicate in the future. Videos submitted via email to gen-eng-support@sheffield.ac.uk
Make the University of Sheffield your firm choice in your UCAS application.
Submit an entry before the deadline of the 1 September 2023
All submissions will be reviewed and applicants will be informed before the end of week three of the teaching timetable (21 October 2023) if they have been successful.
Previous Winners
For inspiration, please view previous winning videos by James Mottram, Ben O'Dowd and Millie Walker. These were selected based on their inspiration, creativity and engineering vision. Each student was awarded the Engineering the Future scholarship and received the £1,500 scholarship award.
James Mottram
Ben O'Dowd
Millie Walker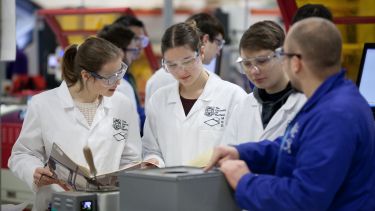 A world-class university – a unique student experience
Sheffield is an engineering research university with a global reputation for excellence. We're a member of the Russell Group: one of the 24 leading UK universities for research and teaching.
Explore the University
Discover why Sheffield is the right choice for you at one of our open days or events.