Your time at Sheffield will go by so quickly – so have fun!

Romesa Khawaja
President
General Engineering Masters Society
We have many student societies to choose from. We had a chat with the President of the General Engineering Society – Romesa Khawaja – about why they should be your first choice.

What is GEMSoc?
GEMSoc (General Engineering Masters Society) represents the close knit  community of General Engineering students at the University of Sheffield.
What are your aims and ambitions?
We aim to bridge the gap between the Department and students and ensure your wellbeing is supported throughout your time at Sheffield.
We aim to enhance our member's university experience by creating an environment where you can forge long-lasting friendships and feel a part of a community.
Who are your members?
Whilst GEMSoc is mainly advertised to General Engineering students, it's open to anyone! We've had members from other engineering disciplines (and even Politics) join. Our society is open to any student at the University of Sheffield.
What sort of things do you do?
GEMSoc hosts a variety of events for our members. We host fortnightly socials such as bar crawls, themed nights out, pub golf and more!
We also host sober socials like laser quest, mini-golf, brunch and walks in the Peaks. We also organise a yearly tour to a European city to locations such as Prague and Brussels.
Our most successful social is our annual Christmas and Spring balls. We are one of the few societies that host two balls every year. GEMSoc ball is our way of getting everyone back together (lecturers included) to properly send off the semester.
We also have a mixed netball team that plays weekly in the University Campus League. Our netball team is extremely successful, winning our league in 2021/22! The netball team is open to everyone regardless of your abilities and it's a great way to keep a balanced lifestyle and feel a part of a team.
GEMSoc also holds professional development events, such as networking events to help a student choose their specialism and academic trips to the local waste management site.
Since we are committed to creating a community, we have introduced GEMSoc Houses. These are a group of members ranging from foundation to fourth years and act as a support network if members need advice or someone to talk to.
What do you and your members love about studying at Sheffield?
The main thing that attracts everyone to Sheffield is how friendly the city is. The University aims to demonstrate this from before students even apply, by having such welcoming student ambassadors and staff.
Sheffield is a more affordable city compared to others and is complemented by its extensive green spaces and vibrant city centre. The city prides itself on its independent local restaurants, shops and pubs. There is also a busy social scene meaning you'll always have something new and exciting to experience.
Is there any advice you could give to students thinking about coming to Sheffield?
Don't hesitate to put yourself out there and take every opportunity you get. The more you take part in, the more you'll get out of your university experience and the more you'll figure out about yourself.
Get involved with GEMSoc and build long-lasting friendships. Most importantly, take care of yourself – everyone will come out with the same degree and similar skill set, so make sure you leave time to relax, socialise and enjoy it all.
Your time at Sheffield will go by so quickly so make sure you have fun with it!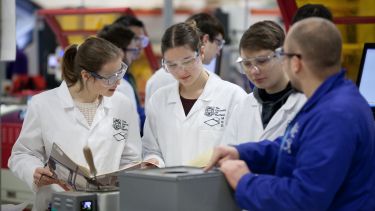 A world-class university – a unique student experience
Sheffield is an engineering research university with a global reputation for excellence. We're a member of the Russell Group: one of the 24 leading UK universities for research and teaching.