The course encouraged me to pursue what truly interested me

Harriet Tucker
Harriet Tucker
BA Geography graduate
Recent graduate Harriet Tucker discusses her favourite things about the Sheffield Geography department, what her role as a student ambassador entailed and plans for the future...
Why did you choose to study BA Geography Sheffield?
I chose to study human geography because I have always been fascinated by how people interact with their environment and the social, economic, and cultural factors that come into play. When I discovered Sheffield University, I was thrilled to see that they offered a specialisation in human geography, allowing me to dive deep into my interests right from the start. I was also drawn to the flexibility of the course. They have a wide range of modules to choose from within the geography department, and I loved the freedom to pick some outside my core subject – including sociology and urban studies and planning - It allowed me to explore different areas and expand my knowledge in exciting ways. I also love how the course is not just about exams but also includes more creative and challenging assignments. I found it really beneficial to showcase my strengths and do something different that can impress future employers.
What drew me to Sheffield, in particular, was the vibe of the city. It's known for being super friendly and welcoming, and that's exactly the kind of atmosphere I wanted for my university experience. Plus, the fact that it is so close to the Peak District was a huge bonus for me. I'm an outdoor lover and being able to explore the stunning landscapes of the Peak District right on my doorstep sounded amazing. On top of all that, Sheffield has an incredible student union and a ton of societies to get involved in. That was a major selling point for me. I wanted to have a vibrant student life and plenty of opportunities to pursue my interests outside of the course – both academic and sport related. I am about to partake in a100-hour placement this summer, and I also got involved in a SURE research project the year before. I also have been involved in Tennis, skateboarding and yoga society in my time here.
What were some of your favourite things about the course? 
One of my favourite things about the course was the opportunity to go on field trips and explore different research methods. I believe that first-hand field experience is essential for being a true Geography student - It was exciting to apply what I had learned in lectures and seminars to real-world situations. In particular, I had a great time during my third-year module, "Urban Exploration," which encouraged us to be more creative in our research methods. These experiences are great for getting to know your course mates too, something I have really valued in my time at Sheffield.
I would like to give a special shout-out to Richard Phillips, who has been both my dissertation supervisor and my SURE research supervisor during my time at university. Richard has been an incredibly supportive mentor, offering guidance and encouragement throughout my studies. His expertise and dedication have been instrumental in shaping my academic journey, and I am grateful for his contributions to my learning experience.
Do you have any plans for after graduation, and how do you think your course has prepared you for a job in the future?
After graduating, I plan on doing a social Masters MA program at Sheffield as my ultimate aspiration is to pursue a PhD, driven by my passion for knowledge and scholarly research.  However, prior to this I intend to celebrate my undergraduate achievements on a road trip across Italy as Geography has made me want to see the world! (I don't want to fly too far though, as Geography has instilled a consciousness of environmental implications of air travel!)
In terms of the course, I feel it has provided me with a multitude of valuable skills applicable to future employment prospects. Amongst these is my proficiency in time management, honed through the demanding academic requirements of my program. The ability to effectively prioritise tasks and meet deadlines is bound to be useful in any professional setting.
Furthermore, the emphasis placed on clear and concise writing has significantly enhanced my communication abilities. The capacity to articulate ideas succinctly and coherently is of real importance for any job I plan on doing in the future. Geography in particular has given me a great awareness of the importance of considering multiple stakeholders in decision making - In today's interconnected world, these skills are vital!
What skills do you think you have learned from the course/Uni experience which will help you in the future?
During my university experience, one of the valuable skills I have learned is the ability to take risks. The course encouraged me to pursue what truly interested me, even if it involved doing something I may feel slightly out of my comfort zone doing. This willingness to take risks, coupled with the guidance and support provided by the university, has equipped me with the confidence to embrace new challenges and explore unconventional paths in the future.
Another essential skill I have developed is my ability to listen to others. Constantly considering how different things will impact individuals in unique ways has made me more open to compromise and understanding. I have learned to value diverse perspectives and actively listen to others, which will undoubtedly be useful in the future. This skill will enable me to collaborate effectively, consider multiple viewpoints, and foster a more inclusive and supportive environment wherever I go.
Why did you decide to become a student ambassador and what did the role entail?
As a student ambassador, I decided to apply for the role to show gratitude towards the department that had provided me throughout my academic journey. I wanted to give back and express my appreciation by offering honest and positive feedback to prospective students. The student ambassador role is really good for being able to work a flexible, but rewarding part time job whilst at university to support living costs.
My role involved giving talks at open days, supporting lectures with activities, assisting prospective students with applications, and fostering a friendly atmosphere within the department. It was a fulfilling experience, allowing me to inspire and engage potential students and showcase the department's strengths.
Do you have any tips for students who may also be interested in becoming an ambassador?
Go for it! Being an ambassador offers flexibility and can be highly rewarding, especially if you are passionate about your course. It is a wonderful opportunity to get to know fellow students, from all year groups.
When representing your department, honesty is key. People appreciate sincerity, so it is important to be genuine when talking about your experience. Transparency will help establish trust and credibility with your audience. If you try to exaggerate or hide the negatives, people will see through it. Focus on highlighting the positives, as they often outweigh any drawbacks.
Do you have any tips for students looking to study Geography at Sheffield?
As a student studying Geography at Sheffield, my advice for prospective students would be to showcase your unique personality and experiences in your personal statement. The admissions team appreciates creativity and diversity, so do not be afraid to speak about yourself authentically rather than trying to guess what they want to hear.
Once you are accepted, make the most of the numerous opportunities available to you. Sheffield offers so many extracurricular activities, and research opportunities. Remember that you will get out as much as you put in, so be proactive and take full advantage of what's on offer. If you are worried about not meeting the grade requirements, don't let that discourage you from applying. Sheffield understands that circumstances can affect academic performance, and they are willing to consider passionate students who may be a grade short. Show your enthusiasm for the subject and demonstrate your commitment, and the university will do everything possible to support your application. Good luck!
---
Study with us
Join an international community of geographers and help tackle the biggest issues in our changing world.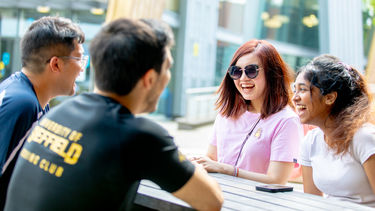 International Merit Scholarships
We offer a generous package of financial support for international students including 75 undergraduate scholarships worth £10,000 towards the annual tuition fee and 125 postgraduate taught scholarships worth £5,000 towards the tuition fee. Applications are now open for existing offer holders.