Will you give hope to children like Brooks and his family?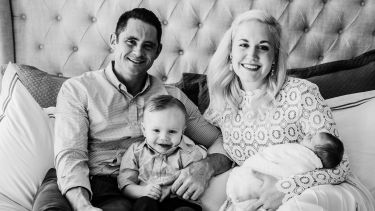 Brooks' story
Brooks Ward, aged two, was diagnosed with COL4A1 shortly after birth. This rare genetic disease causes 'fragile' blood vessels and has affected Brooks' heart, brain and vision. As well as causing him constant, painful spasms and a weakened immune system. 
Brooks' parents, Blair and Dustin, will stop at nothing to find a way of helping their son and all those affected by genetic diseases. 
There is nothing more frustrating than being completely helpless in your pursuit of health for your child. We don't have time on our side and we refuse to take no for an answer. We never in a million years thought a project focused around COL4A1 would occur in this lifetime."

Blair Ward

Mother of Brooks Ward who suffers from rare genetic disease COL4A1
Your kindness will be a shining light for families coping with these devastating conditions. 
Pioneering research into gene therapies at the University of Sheffield has the potential to treat rare diseases like COL4A1. Although individually uncommon, collectively it's estimated that rare diseases may affect up to 10% of the world's population. Most rare diseases affect children and many are fatal or severely disabling.
Brooks' story
The first signs of COL4A1 appeared before Brooks was even born. At his 20-week ultrasound, doctors identified that his front brain ventricles were more dilated than usual. 
After Brooks stopped growing and was born early at 37 weeks, doctors then discovered that the problems with his blood vessels had caused a stroke in utero.
It's emotionally debilitating for us. Sleep is a struggle. Not only from constant worry but he also wakes multiple times a night because of seizures and increased risk of additional strokes."

Blair Ward

Brooks' mother
Cataracts means Brooks is only able to see light, and damage to his brain has meant Brooks is developing more slowly than usual. Suffering from more than 100 seizures a day causes constant chaos in his brain. And simple things like going out as a family are challenging.
After all these complications and nine surgeries, Brooks' smiles and giggles are still infectious. And Brooks' parents Blair and Dustin are absolutely fearless in their pursuit of finding new treatments to help him and other families affected by this condition. 
From their home in St. Louis, USA, the Brooks family discovered that research led by the University of Sheffield may hold the key to treating COL4A1 using gene therapies.
Brooks is the strongest person we know. He has endured more in his short life than most do in a lifetime."
The University of Sheffield community aims to raise £200,000 by 31 July to fund a state-of-the-art Bioreactor. This cutting edge technology will help a leading team of scientists to produce clinical grade treatments for a number of genetic diseases. From rare childhood diseases like COL4A1 and Spastic Paraplegia 47 to genetic forms of common diseases like Dementia.
Yes, I believe research can change lives
With your help today, Sheffield's scientists will have the chance to work with the latest technology needed to get their research to clinical trials with patients. Researchers will be able to engineer bespoke genes to replace or silence a faulty one, in the form of a safe 'viral vector'. 
The team behind this pioneering technique has already led clinical trials that show the huge potential of gene therapies. 
Imagine being told your baby has a life expectancy of just two years and seeing them struggle to breathe. 
Picture the pride you'd feel watching them greet their classmates on their first day of school. For parents of children suffering from Spinal Muscular Atrophy this is now a reality. All from just one treatment. 
Your help can give much-needed hope to children like Brooks and his family. Please show your support today. 
Find out more about the University of Sheffield's Gene Therapy Innovation and Manufacturing Centre.
Join an unstoppable community of donors
United in your passion for Sheffield and how it can shape the world, together you'll help bright minds thrive.