Will you help us treat incurable conditions?
Sheffield is a place of innovation. And, with your help, this innovation could change lives. The University of Sheffield has the power to cure devastating genetic conditions.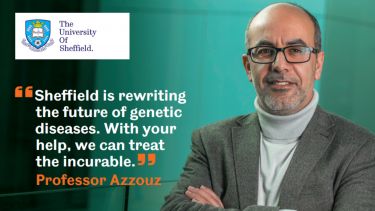 Our new Gene Therapy Innovation and Manufacturing Centre (GTIMC) is opening soon. It will help us develop treatments for previously incurable diseases.
All that's missing is a bioreactor for the lab to help speed up research and advance clinical trials. With the support of alumni, staff and friends of Sheffield, we're aiming to raise £200,000 by the end of July to purchase this special equipment.
Your support will bring hope to people coping with the devastating impact of genetic conditions. People like Robbie, and her family.
After Robbie's diagnosis, I would wake up every day and suddenly remember. It felt like a crushing weight. We had to find our inner strength to pick ourselves up and fight.

Having the University of Sheffield focus on this research gave us a spark of hope. It's been fuelling us ever since. A treatment would be a dream come true.

We've experienced one of the worst things that could happen in our lives. But suddenly, you start to see the best of humanity. Not just the researchers, but the community of supporters.

People step up. And the support is comforting.

Kasey Edwards

Mother to Robbie who has the rare disease SPG47
Sheffield is uniquely placed to lead a revolution in gene therapy.
Gene therapy replaces, repairs or switches-off faulty genes. Helping to stop, and even reverse, the damage caused by these awful diseases.
The researchers behind the Sheffield team have already helped to develop a gene therapy treatment for babies like Edward with Spinal Muscular Atrophy. 
It's no exaggeration to say that gene therapy is already saving lives. With your support, Sheffield can help treat even more people.
How you'll help
Your support won't just help people with rare diseases. This vital piece of equipment will further research for common conditions too. From dementia and MND, to hearing loss and even cancer.
When you choose to make a gift to this appeal, the ripple effect is huge. You're helping to reduce national healthcare costs, by attacking the root cause of disease. You're inspiring a young researcher with the best equipment. You're bringing hope to a family, who for so long has been left waiting in the dark. And you're helping us all to live healthier, happier lives.
Help us to meet our £200,000 fundraising target by 31 July and get the first lab in the GTIMC up and running.
You'll help us produce treatments for patients in clinical trials much sooner and give hope to families.
Meet the research team
Find out more about the people behind the research and discover how they're personally fundraising to support the appeal
What is genetic disease research?

COL4A1 - Brooks' story

SPG47 - Robbie's story

Spinal Muscular Atrophy  - a success story
Join an unstoppable community of donors
United in your passion for Sheffield and how it can shape the world, together you'll help bright minds thrive.