Will you help rewrite the future for children like Robbie and her family?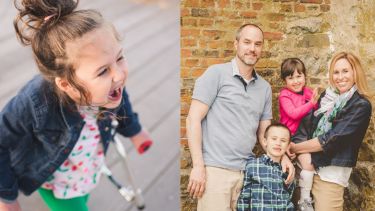 Robbie's story
Robbie Edwards, aged eight, was diagnosed with SPG47 when she was just a toddler. Robbie's parents noticed she was developing slower than usual. She was struggling with physical milestones. But doctors didn't have any answers.
At 19 months old, Robbie had a seizure and was airlifted to hospital. After an MRI scan, an observant neurologist started to suspect that genes could be causing her symptoms. Genetic testing of the family confirmed the life-changing diagnosis: SPG47.
The Edwards family has watched Robbie work exceedingly hard to gain independence in walking only to watch in despair as the degeneration of this rare genetic disease gradually deprives her of that ability. This insidious disease causes global developmental disabilities that impact all aspects of Robbie's life, making speech and learning exceedingly difficult, and is associated with epilepsy in some cases. 
Despite everything, Robbie still has an infectious giggle and loves playing with her friends.
Physiotherapy, injections to reduce debilitating muscle tightness and leg braces, all help Robbie. But they're just sticking plasters. They can't stop the disease. But you can help change that.
Desperate for a treatment, the family met with Professor Mimoun Azzouz from the University of Sheffield. Professor Azzouz's research has the potential to treat SPG47 through gene therapy. There was finally a spark of hope, which has fuelled the Edwards family to this day.
Yes, I'll help children like Robbie
You can help rewrite the future of thousands of people. With your kindness today, you'll help develop gene therapy treatments. And you'll bring hope to Robbie and her family.
SPG47 is just one of hundreds of rare genetic diseases that could be treated. Although individually uncommon, collectively it's estimated that rare diseases may affect up to 10% of the world's population. Most affect children and many are fatal or severely disabling. 
Gene therapy also has potential to treat genetic forms of common conditions like MND, dementia and hearing loss. The impact of your help today could be huge.
Your help will shine throughout the whole patient community  
We've experienced one of the worst things that could happen in our lives. But all of a sudden, you start to see the best of humanity. Not just the researchers but the other families we've met with this condition and the community. People step up. And the support is comforting. Not a lot of people get to see that, to experience that. New parents receiving this diagnosis aren't alone, there's a support network."

Kasey Edwards

Mother to Robbie who has SPG47
When Robbie was diagnosed, her family were told she was one of only 10 children in the world with SPG47. Statistically, the odds were zero. There was no way Chris and Kasey could have known that this genetic disease could get passed on to their children. 
The family had to muster strength within themselves. Information was limited. There were only two articles on SPG47 on the internet. And it was a crushing feeling, waking up every day and remembering the diagnosis. 
When they discovered another little girl with the condition, the two families didn't feel so alone anymore. And they've worked together to support other families, through their organisation Cure-AP4. 
There are currently almost 230 families with conditions affected by the AP4 gene, like SPG47. Before the community started, families of children given an AP-4 diagnosis felt lost, isolated and scared. But today, when this diagnosis is given, there's a ready made support group. There's help to get through the daily challenges.
And now there's finally hope for a treatment, thanks to research from the University of Sheffield. 
By stepping up and supporting this appeal, you'll help bring comfort to a family. A family who has already been through so much. A family who just wants a brighter future.
About the appeal
The University of Sheffield community aims to raise £200,000 by 31 July to fund a state-of-the-art Bioreactor. This will help a leading team of scientists to produce gene therapy treatments for a number of genetic diseases. 
With your help today, Sheffield's researchers will be able to engineer bespoke genes to replace or silence a faulty one, in the form of a safe 'viral vector'. The new Bioreactor will help accelerate their research into clinical trials with patients.
The team behind this pioneering technique has already shown it works. Professor Mimoun Azzouz has helped to turn his research into a successful treatment for babies with another genetic condition: Spinal Muscular Atrophy. Gene therapy really is saving lives and has the potential to do so much more.
Find out more about the University of Sheffield's Gene Therapy Innovation and Manufacturing Centre which is leading the gene therapy revolution.
Join an unstoppable community of donors
United in your passion for Sheffield and how it can shape the world, together you'll help bright minds thrive.