Running away from the bench...and back!
Meet Dr Francesca De Faveri, Postdoctoral Research Associate at the School of Bioscience.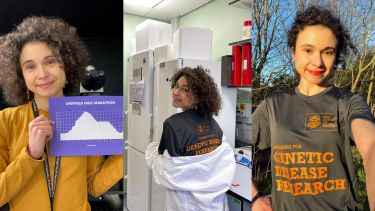 What made you choose to sign up for the University of Sheffield team at the Sheffield Half Marathon and why? 
I'm a researcher at The University of Sheffield in the Neuroscience Institute's Hearing Research Group. I find my field of work to be incredibly compelling and inspiring. Most of my time is spent in the lab. There I am focussed on the experiment at hand, and get excited at the smallest achievement! When working in such fine detail, it can be easy to forget the bigger picture. The bigger picture is that our research can truly make a significant impact to improve our lives. 
To celebrate the difference research makes, I am running away from the bench and back again to raise funds for the cutting-edge Genetic Disease Research at The University of Sheffield!
What does fundraising for Genetic Disease Research at the University of Sheffield mean to you? 
After reading about how the exciting developments in gene therapy have led to a treatment for Spinal Muscular Atrophy, I feel thrilled to be able to contribute to future successes in Genetic Disease Research! The recent opening of the Gene Therapy Innovation and Manufacturing Centre proves that investing in this promising, pioneering technology is bound to make a change. 
My lab is implementing gene therapy to try and ameliorate age-related hearing loss. This condition affects people worldwide and it provokes social isolation and depression. To date there is no cure. Most genetic diseases have no cure and often threaten children's lives. The advances in gene therapy strategies offer real hope to families affected by genetic diseases. 
How do you feel about taking on this challenge? 
I've always enjoyed running and I'm delighted to take part to help to make a difference, and challenge myself at the same time. It certainly feels like a challenge to take on a half marathon in super-hilly Sheffield! I am motivated because I know first-hand that research is itself a hilly path, with many ups and (many!) downs. Yet, with resources and commitment, it can definitely get to the finish line!
Do you have any advice for those who might be considering taking on a similar challenge for Genetic Disease Research?
You are going to succeed, no matter your finish time or the amount you raise. Even if you just promote your challenge and raise awareness, you'll be highlighting the crucial difference Genetic Disease Research can make to improve the lives of many people!
Join an unstoppable community of donors
United in your passion for Sheffield and how it can shape the world, together you'll help bright minds thrive.