Tom Wright's Manchester to Sheffield Hike for Student Scholarships
"I want to be that person who makes a significant difference for somebody. However big or small that might be."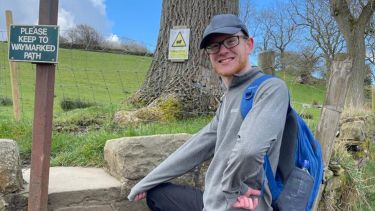 Off
On Friday 24th March, Tom will be hiking over 72 kilometres from Manchester to Sheffield. He's taking on this day-long challenge to raise money for Student Scholarships at the University of Sheffield.
In recent years, through his student-facing role, Tom has seen a significant increase in students seeking financial support. And he knows first hand how the worry of making ends meet can affect a student's University experience, having received support himself from generous donors during his time as at university. 
The support I received during my time at University gave me the confidence and assurance from a financial perspective to pursue my studies, expand my personal interests, and make the most of my time studying in Sheffield. It's the reason I'm where I am today."​​​

Tom Wright

BA History 2016, MA American History 2017
Tom is no stranger to hiking long distances. He's previously taken on several charity hiking challenges - most recently, the 2022 Big Walk. But this 45 mile walk will definitely be a challenge! It's a 20 mile jump from his previous challenges. 
We wish you the best of luck for your hike Tom. And we hope the weather is on your side! 
---
Tom's Story:
What made you choose to take on this challenge and why? 
Because I'm absolutely mad!
No, I've taken this challenge on for a number of reasons. Some of these are linked to my current role as a Senior Enquiries Adviser within the University whilst some are far more personal. In my current role I co-manage the hectic front-facing Student Services Information Desk (SSiD) and one thing that we have seen, especially more recently, is a significant increase in students seeking financial support; whether this is for general living costs or support contributing towards tuition fees. This causes stress, concern and places barriers for students to really benefit from their University experience, and in many cases to even apply to University. This has motivated me to fundraise. To actively impact and benefit students and/or applicants and to make a difference for those who need it, at a time when they need it more than ever. 
Alongside this, I know the benefits of receiving financial support directly from the University. As a student myself, I received financial support alongside my course and this helped me to balance my living costs (food, rent etc.) alongside enabling me to enjoy a proactive and productive social life whilst studying. These two things interlink, and my financial support from the University gave me the confidence and assurance from a financial perspective to pursue my studies, expand my personal interests and make the most of my time studying in Sheffield. 
I was part of the £9,000 tuition fee per year cohort and it is very easy to think , why should I give back when I have such a large pool of debt from my own studies? Well, this is a self-explanatory type of question. We are currently in a generation of high tuition fees, exacerbated by external factors such as the cost of living, which makes it even more important and significant than ever that the brightest young minds across the University are able to access and benefit from University, both the academic and personal side of this. It is a challenging and often complex decision to go to University and anything I can do to benefit even one student is worth every one of those 72.8km's. 
From a personal perspective, I'm always looking for a challenge and see this as an opportunity to continue galvanising my love of hiking. I completed the Norfolk Coast MacMillan Hike last May, and the University Big Walk in June, so naturally a jump from 26.2 miles and 20 miles respectively, to around 45 miles seems reasonable! 
What does fundraising for Scholarships at the University of Sheffield mean to you? 
As somebody who spends every day working to support students it means the absolute world to me. 
I am, and have always been, extremely passionate in providing support to students and assisting them through significant challenges. This has been the case ever since I graduated with my MA, and I suspect this will be the case for a very long time to come.
The fundraising aspect is the perfect way to challenge myself, whilst providing me with an opportunity to raise money for those small things that are so significant to people who need that extra additional support to make their University experience come true. Lower-income and disadvantaged students deserve the opportunity to attend University, and to thrive in it and I'm determined to give that opportunity to them. 
How do you feel about taking on this challenge? 
I am genuinely so excited for this challenge. 
Hiking has been massively beneficial to me both in terms of my own mental and physical health, and the idea of walking from Manchester to Sheffield across a day is something I cannot wait to achieve. The views will also be incredible, which is a definite bonus. Especially through the Peak District. The hills will likely be less enjoyable. I've also already accepted that it will probably rain. This is England after all. But to experience an entire day, across sunset to sunrise, will be an incredible way to spend my day. 
I'm also massively motivated for this to make a change for current and prospective students and this is the key driving factor. The challenge itself is me saying "I believe in you and I want to help you fulfil your aspirations" and if that doesn't get me out of bed at 4am on the day then nothing will. 
I want to be that person who makes that significant difference for somebody. However big or however small that might be. 
Do you have any advice for those who might be considering taking on a similar challenge?
Don't do it! I'm only joking! If you have a challenge in mind; whether it is running, walking, swimming or jumping from 10,000 feet out of a plane then do it. Make that commitment, fundraise and believe in yourself. Never let anybody tell you that you're not able to achieve something. My first walk (around 2.5 miles) after the COVID lockdown I struggled to even walk into work with fatigue and fitness, and now I'll be walking almost 45 miles within a day. 
If you believe in something, then you can always achieve it. 
Join an unstoppable community of donors
United in your passion for Sheffield and how it can shape the world, together you'll help bright minds thrive.