Causes you can fundraise for
People from all across Sheffield joined together to fund the creation of our University back in 1905. Thousands of people from all walks of life contributed penny donations to make the University of Sheffield a reality, and that spirit of community fundraising is still alive and thriving today.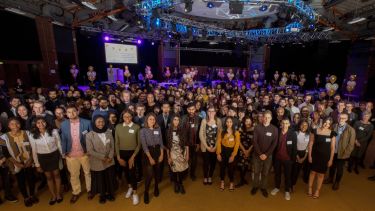 Off
Your chance to have an impact
As a fundraiser, you can make a difference right areas across the University. Community fundraisers have raised over £1 million for causes at the University so far, and you could join them to go even further.
By fundraising for scholarships, you'll help a young person to study at Sheffield free from financial worry.
You can enrich students' lives by supporting the student experience. 
Or you can help our experts continue their world-leading research that's helping to solve some of the planet's greatest challenges - like disease, climate change and food security.
If there's an area you know of at the University that you are interested in and have a passion for, you can support it. Just get in touch with our Fundraising Team and we'll help you make it happen.
---
What to discuss an cause close to your heart, or find out how you can support a specific area of the University? Our Fundraising Team is here to answer any questions you may have.
Email: giving@sheffield.ac.uk
Telephone: +44 (0) 114 222 5598