Fuelling world-class research
Thanks to you, we're able to carry out research that influences policy and changes lives. Here you'll find examples of how your gifts are helping our researchers address some of the world's most pressing challenges.
Our pioneering researchers are transforming our understanding of Parkinson's disease and playing a major role in the fight against the world's fastest growing neurological condition.
Over £210,000 raised so far
Hundreds of supporters
10 years of ground-breaking research and advancement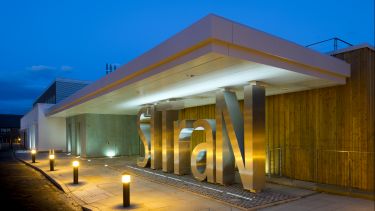 The University of Sheffield's Institute for Translational Neuroscience (SITraN) is unlike any other in the world.
Read more about a decade of advances in neuroscience and our ambitions for the future
Sheffield PET-MRI facility
The Sheffield Scanner is the world's most advanced medical imaging system. The scanner will transform our understanding of serious conditions like cancer, dementia, and MND and the way they are treated in the future
Over 11,000 supporters

Over £2million raised

One ground-breaking PET-MRI facility installed in Sheffield
Our ultimate goal is to slow or even halt Alzheimer's disease before it has taken hold. MRI-PET is the best technique there is for detecting the earliest signs of Alzheimer's disease."
Professor Annalena Venneri
Professor of Clinical Neuropsychology
During the pandemic, Dr Pete Mylon and his team at the iForge answered the national call to manufacture protective face shields for frontline healthcare workers.
Over £18,000 raised

Over 5,000 face shields provided

150 front-line healthcare organisations protected
It has been a privilege to be involved in supporting frontline workers across Sheffield and the surrounding area who are putting their lives on the line. The generous donations through our Just Giving page have enabled us to keep supplying them with PPE, and everyone who has donated can feel proud to have been a part of this effort!"
Dr Pete Mylon
University teacher and Academic Lead for the iForge
The University of Sheffield has a wide range of manufacturing equipment and, crucially, the expertise needed to use it. Our skills in design and manufacture have allowed us to respond quickly and scale up the manufacturing of PPE for use by healthcare workers."
Dr Sam Pashneh-Tala
Research Fellow and Faculty of Engineering Media Fellow