A thank you from the Brass Band Society
Thanks to generous donations from Sheffield alumni, Brass Band Society hosts national contest and wins 'Most Innovative Society of the Year 2020-2021'.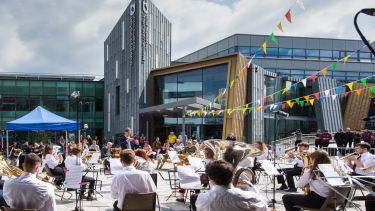 Off
The University of Sheffield Brass Band (USBB) is made up of passionate musicians who, in spite of the pandemic, have made Sheffield proud. Following kind donations from former students, the society received a £1,000 grant in 2021, which went towards hosting the UniBrass contest in Sheffield. 
UniBrass is a national university brass band championships. USBB had plans to host UniBrass in February 2021, but due to Covid they had to postpone the contest until June. The Chair of the committee, Voirrey Baker, says that the band were "determined to not just become another victim of the pandemic", and so with all the tenacity you expect from Sheffield students, and inline with social distancing, USBB successfully held the event outdoors on the 26 June 2021. 
The contest included eight in-person universities, one virtual band, 175 audience members and 22 volunteers. The event was live streamed online with more than 1300 viewers simultaneously, in countries including Australia, Jamaica and the USA.
The funding from kind Sheffield alumni went towards making the event a huge success and USBB  "would like to thank the University's supporters for their generosity. It's helped us make tremendous strides in enhancing the student experience - particularly for those of us in the Brass Band society." Hosting this prestigious event is an astonishing achievement especially during the pandemic and managing under Covid restrictions. 
What's more, USBB was awarded the 'Most Innovative Society of the Year 2020-2021'. Throughout the lockdown periods, members overcame the challenges of the pandemic by continuing to hold events and playing their music. They held virtual socials, entered into the Cory Online Contest and created a track for UniBrass called, The Lockdown Collection. 
From September 2021, USBB will be returning to their weekly rehearsals and holding their regular concerts, including a Christmas and Spring concert. The Brass Band also aims to go on tour in 2022 with the Wind Orchestra (SUWO).