Sheffield students win prestigious award thanks to alumni funding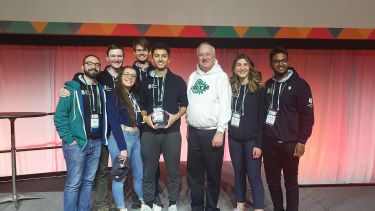 Off
Sheffield iGEM is a student-led organisation that represents the University of Sheffield at the iGEM competition in Boston, USA.
Each year, this global competition brings together more than 6,000 university participants from more than 100 countries. The annual event is called the Giant Jamboree, and is the synthetic biology industry's largest innovation event.
iGEM combines biology, engineering, and entrepreneurship. It contributes to the field of synthetic biology by tackling real world problems in areas like medicine, environment, and manufacturing. 
Thanks to support from alumni donations, Sheffield iGem took home a Gold Award for Best Open Project in the 2019 competition for their OPENLUX microplate reader: an affordable, DIY, open source microplate reader that measures bacterial growth.
This open source project was inspired by university students that wished they had prior experience of using microplate readers before they started their degree. 
The team specifically wanted to support labs with restricted resources, such as schools. With the freely accessible instructions providing a learning kit, it empowers students and teachers to build their own microplate readers using easily accessible materials at minimal cost.
OPENLUX is about giving students more opportunities, sooner, so they gain experience faster once they start their degree. More about the project such as the stages of conception and production can be found on the OPENLUX webpage.
iGem Sheffield are now preparing for their 2022 iGem entry and would like to thank everyone for supporting them through this fantastic journey!
To keep up to date visit the Sheffield iGEM website.