About social accountability at Sheffield
We are positioning our education, research and service delivery to meet priority local health needs and make a major contribution to University-wide efforts to improve and enhance the way we work in partnership with others across the Sheffield City Region and South Yorkshire.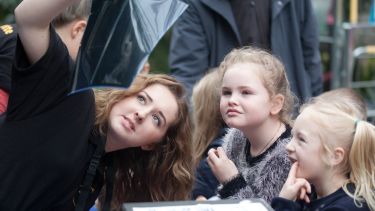 Off
Our aims
Inspiring students to engage with the idea of what it means to be a socially accountable health professional and adopt a commitment to serve in a spirit of social justice within their future practice wherever that may be
Encouraging staff to collaborate with community partners and co-produce learning and teaching, research and knowledge transfer activities that can similarly demonstrate a positive impact on the health and well-being of the people and communities surrounding the University of Sheffield
Creating opportunities for a wide variety of different community partners to contribute to curriculum change and research project development, influence the mind-set and career trajectories of the next generation of health professionals, and involve staff as well as students in their efforts to improve people's health and well-being across the Sheffield & South Yorkshire Region
Working in partnership with community partners in an honest and authentic way to break down barriers and facilitate changing patterns of university-community engagement and interaction. 
Social accountability is the obligation of medical and other health professional schools to orient education, research and service activities towards addressing the priority health needs of the community, region, and/or nation they have a mandate to serve - where priorities are jointly defined by government, health service organisations, the public and especially the underserved.

World Health Organisation, 1995
A programme of work is now underway across the Faculty to support this vision led by Professor Deborah Murdoch-Eaton and Professor Elizabeth Goyder and overseen by Charlotte Watson, Faculty Social Accountability Project Manager with support from a project steering group.
A global reputation
Sheffield is a research university with a global reputation for excellence. We're a member of the Russell Group: one of the 24 leading UK universities for research and teaching.