Academic foundation programme projects
The foundation research programme at Sheffield doesn't provide a list of projects that trainees must choose from. Trainees are invited to follow their own interests, contact consultants and academics in the appropriate specialty and play a large part in designing their own project.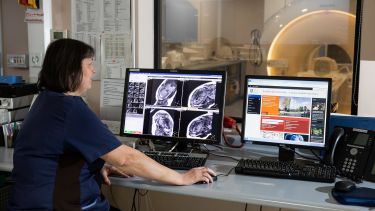 On
A preliminary meeting with the clinical academic training manager provides advice and help with the process - so if you don't have a clear idea for your research rotation in AF2, guidance is available.
To give you an idea, here are some examples of current possible projects and previous projects undertaken in the last few years. Trainees are encouraged to approach any specialty, so these just provide examples. We have a list of about 60 academics/clinicians who have been willing to host AF2 projects - and many others who haven't been asked yet!
The F2 academic trainee will be expected to have completed a literature review, a presentation of his/her research and written up his/her research project within the 4 month academic placement. There is an annual academic presentation day which is mandatory for all F2 Academic trainees, and gives the opportunity for trainees to either give an oral presentation (subject to a selection process) or poster presentation.
---
These are examples of possible research projects for the AF2 year. Many other specialties are also happy to host foundation trainees. If you have a particular idea or specialty in mind, let us know and we will help you explore the possibilities.
Primary care of under-served populations

Improving experiences for incurable head and neck cancer patients

Bereavement care for all – a qualitative study to improve bereavement services for those from ethnic minority groups

Developing AI-based imaging algorithms to improve personalised medicine in rare kidney and liver disease

Research into the urgent and emergency care system

Medical Education – Cardiothoracic Surgery

Advanced neurophysiology for nerve and muscle disorders

Digital capture of side effects and quality of life outcomes in pulmonary arterial hypertension

Clinical prediction in emergency medicine

Systematic reviews in emergency medicine

GI research projects

Application of advanced structural, functional and metabolic imaging in thoracic radiotherapy

Mental health research

Identifying new genetic variants that modify chronic kidney disease

Computational modelling of coronary artery blood flow

Using patient reported outcome measures to evaluate quality of care for those with palliative care needs

Arrhythmic burden and outcomes in pulmonary arterial hypertension

Disease stratification for neurodegenerative disorders

The gut-brain axis in Parkinson's disease

Pain in Parkinson's disease

Factor analysis of online PROMS (patient reported outcome measures) questionnaire used for remote assessment of patients with heart valve disease.

The role of RNA editing in the pathogenesis of pulmonary arterial hypertension.

Use of metagenomic approaches to diagnose causes of neonatal sepsis in The Gambia

Computational modelling of coronary blood flow

Interpretable artificial intelligence to improve cardiothoracic imaging diagnoses

Spectroscopy for neuromuscular disorders

Physical Activity in Treatment & Prevention of Chronic Disease

Clinical projects on functional gastrointestinal disorders

AF2 Project in primary care

Using Artificial Intelligence to Personalise Treatment in Painful Diabetic Neuropathy

The Early and Late Costs of Bleeding After Cardiac Surgery

Determinants of Failure After Repair of a Degenerative Mitral Valve

Optimisation of antithrombotic medication for ischaemic heart disease
---
Risk assessment methods for venous thromboembolism (VTE) prophylaxis for hospital inpatients

Professor Steve Goodacre s.goodacre@sheffield.ac.uk

Emergency Medicine, Clinical Research

Risk assessment methods for venous thromboembolism (VTE) prophylaxis for hospital inpatients Clinical Research

This is a 2-year project, from 1/7/2019 to 30/6/2021, funded by the National Institute for Health Research, that will use a variety of research methods (systematic reviews, decision-analytic modelling and analysis of routine NHS data) to determine the effectiveness and cost-effectiveness of providing VTE prophylaxis to hospital inpatients on the basis of different risk-assessment methods. A 4-month secondment will offer the opportunity to join the project and learn about research methods used in health technology assessment with a research team based in the Clinical Trials Research Unit and the Centre for Urgent and Emergency Care Research in ScHARR.

Prehospital triage tools for suspected sepsis

Professor Steve Goodacre s.goodacre@sheffield.ac.uk

Emergency Medicine, Clinical Research

This is a 2-year project, from 1/7/2019 to 30/6/2021, funded by the National Institute for Health Research, that will use a variety of research methods (systematic reviews, decision-analytic modelling and analysis of routine NHS data) to determine the accuracy, operational impact and cost-effectiveness of different prehospital triage tools used to select patients with suspected sepsis for urgent treatment. A 4-month secondment will offer the opportunity to join the project and learn about research methods used in health technology assessment with a research team based in the Clinical Trials Research Unit and the Centre for Urgent and Emergency Care Research in ScHARR.

Developing a questionnaire to aid differential diagnosis of transient loss of consciousness (TLOC) - SiTRAN (Sheffield Institute for Translational Medicine)

Over 90% of TLOC is due to either syncope, epilepsy or psychogenic non-epileptic seizures. Accurately distinguishing between these is vital for appropriate further management and identification of patients at risk of severe morbidity or mortality.

Epigenetic regulation of the HPA axis: focus on pro-opiomelanocortin - Dept of Oncology & Metabolism

Glucocorticoids are prescribed to over 5 million patients in the NHS in the UK per year for inflammatory conditions. A major side effect is suppression of the Hypothalamo-Pituitary-Adrenal axis, and this may continue after steroid withdrawal, and is major reason why withdrawal is prolonged, even when the inflammatory disease has gone into remission. The exact mechanism for this is unknown. We have previously demonstrated de-novo DNA methylation of a key positively-regulating POMC (which encodes ACTH) transcription factor in response to long term glucocorticoid exposure. Using cell culture and molecular biology techniques, this project will ask a simple but key question as to whether histone deacetylases that are in clinical use (sodium valproate) can offset the impact of glucocorticoid repression of POMC.

Investigating cumulative genetic defects in Parkinson's disease mutant zebrafish - Bateson Centre and SiTRAN

The zebrafish is a well-established model of human disease and has been successfully utilised in the modelling of PD. Zebrafish models exist of parkin, LRRK2, pink1, gba1 and DJ-1. The aim of this project is to explore any cumulative effect of multiple genetic risk factors (namely gch1, parkin and atp13a2 mutant zebrafish) on mitochondrial function and dopaminergic cell number in zebrafish embryos.

To further validate several compounds shown to modify the zebrafish (Danio rerio) pkd2 phenotype and to the expression of pkd2 in vivo - Bateson Centre and the Dept of Infection, Immunity and Cardiovascular Disease (IICD)

Autosomal dominant polycystic kidney disease (ADPKD) is the most common inherited kidney disease leading to end-stage renal disease in man. Mutations in two genes, PKD1 and PKD2, account for at least 90% of cases. Zebrafish are a new and powerful vertebrate model to study human disease. Induced and targeted mutations or knockdown of pkd1 or pkd2 are associated with cystic dilation of the pronephric kidney make these useful models to study disease and develop new treatments.

Secondary Loss of Response to Vedoluzimab in Inflammatory Bowel Disease (IBD): Systematic Review and Experience from a Tertiary Referral Centre – Gastroenterology Department, Royal Hallamshire Hospital

Vedolizumab is a recently introduced biologic agent used to treat IBD. It is a monoclonal antibody and targets α4β7 integrin and blocks its interaction with MAdCAM-1 hence preventing leukocyte extravasation from the circulation to the areas of active disease in the bowel. The gastroenterology department at Sheffield Teaching Hospitals NHS Trust has the single largest dataset of patients using vedoluzimab in the United Kingdom. The aim of this research is to determine the characteristics which are associated with risk of secondary loss of response to vedoluzimab from this dataset.

Heterogeneity of reason for consultation in frequent attenders to accident and emergency – Academic Unit of Primary Care

Frequent attenders are a burden on many aspects of the healthcare system. In accident and emergency they represent around 1.5% of all admissions. Work by Professor Burton has shown that in primary care frequent attenders have bursts of activity where they present multiples times in a relatively short period of time and has also found that heterogeneity in the reasons for consultation is associated with attendance for mental health problems but not with increasing age. This project will apply the methods from that research to an established local dataset of A&E attendance.

Can Potassium Channels Control Uterine Gene Expression? - Academic Unit of Reproductive & Developmental Medicine

The C-terminal of the L-type Calcium Channel has been shown to enter the nucleus where it acts as a transcription factor controlling a diverse array of genes. It is possible that this transcriptional activity of the channel adds a further layer of control over the timing of parturition. Dr Chapman's group have detected nuclear localisation of the MaxiK potassium channel and preliminary ChIPseq data suggests that the MaxiK Channel can also function as a transcriptional regulator. The main aims of the project are 1) To obtain greater clarity of MaxiK nuclear localisation; 2) To understand how nuclear localisation of the MaxiK protein is regulated; 3) To verify our preliminary ChIPseq data in vivo.

Comparison of long term safety of percutaneous access for EVAR - Dept of Vascular Radiology, Sheffield Vascular Institute

Abdominal aortic aneurysms can be treated through either open surgery or endovascular repair. Endovascular aneurysm repair (EVAR) involves the placement of expandable stent grafts that adhere to the linings of the aorta. EVAR has traditionally been performed by a surgical femoral artery access (open access EVAR). Recently, with the advent of percutaneous closure devices for large-bore arterial access, percutaneous femoral access techniques have been devised and being increasingly utilised (P-EVAR). P-EVAR has been shown to have a high success rate (98%), shorter operating time and shorter length of stay. Although surgical access is considered a minor procedure, access-related complications have been shown to occur in 14-22% of patients. Whilst recent studies have reaffirmed the advantages of P-EVAR over open access EVAR, there exists very little data on the long-term follow up of groin access and resulting potential complications. This study has two parts and aims: 1. To retrospectively assess the Sheffield cohort of Percutaneous EVAR cases for groin complications in the long term; 2. To retrospectively assess the Sheffield cohort of P-EVAR and open access EVAR cases for complications in the long term and to compare and comment on the safety of both techniques in a large tertiary referral centre.

Does routine corticosteroid use reduce the response of bone to mechanical stimulation? - Academic Unit of Child Health and Sheffield Children's Hospital CRF

Bone responds to mechanical loading by increasing bone formation. We have developed a method of standardising mechanical loading using a whole body vibration platform. Studies in prepubertal boys indicate that 5 consecutive days of WBV for 10 minutes each day increases a biomarker of bone formation by 25% after one week. We plan to use this methodology to assess the extent to which bone formation is abrogated in chronic disease states; the specific focus in this project will be to determine the effects of inhaled steroids on bone formation rates.

Detection of radiation-induced lung injury in non-small cell lung cancer patients using ventilation and perfusion magnetic resonance imaging and CT ventilation. POLARIS (Pulmonary, Lung and Respiratory Imaging Sheffield), Dept of IICD

Previous work in Sheffield demonstrated that inhaled gas MRI can provide significant clinical information for lung cancer radiotherapy planning and post-treatment evaluation. A multidisciplinary team is currently conducting a new inhaled gas and proton lung MRI study known as Lung HeXeRT. One aim of this work is to investigate radiation pneumonitis and fibrosis, which are commonly occurring dose-limiting side-effects of radiotherapy. The aim of the project is to investigate if ventilation and perfusion MRI and CT ventilation can detect radiation pneumonitis or other post-treatment dose-related changes. Post-radiation changes will be assessed from pre and post-treatment MR ventilation and perfusion images and CT ventilation, which will be compared and analysed along with the clinical dose distribution.

Biological effects of tribocorrosion products on the bone micro-environment and prosthesis osseo-integration - Metabolic Bone Unit

The use of metal-on-metal hip replacement (MOMHR) has highlighted the adverse effects of prosthetic metal debris on human tissues, with bone-related complications accounting for 70% of revision indications in this group. It is also now becoming increasingly clear that wear-accelerated corrosion at the taper junctions of all modular implants generates metallic wear debris, particularly in the setting of large diameter bearings, and has implications for the large number of brands that use these junctions. Previous studies by us and others have highlighted the detrimental effects of metal debris on survival and function of bone cells. The cellular mechanisms that mediate the adverse effects of metal debris on bone cells are poorly understood, and our overall aim is to address this gap in knowledge. Our specific objectives are to identify the cellular pathways affected by metal exposure in primary human bone cells, including those modulating osteogenic responses of primary human osteoblasts on different implant surfaces. Furthermore, we will determine whether metal exposure induces systemic epigenetic DNA modification in monocyte/macrophage cells from patients with MOMHR that affects differentiation and function of these cells. The data generated by the proposed research will contribute to technological development in this field by developing our understanding of the mechanisms by which clinically relevant prosthetic metal substrates impact prosthesis osseointegration, local and systemic bone health.

Evaluation of predictive models for single versus multigland parathyroid disease in primary hyperparathyroidism - Royal Hallamshire Hospital

Primary hyperparathyroidism (PHPT) is a common endocrine disorder. Most cases of PHPT are due to single PTH secreting adenoma (85%), followed by multigland parathyroid hyperplasia in up to 15% and parathyroid carcinoma is rare (less than 1% of cases). The definitive treatment for PHPT is surgical removal of abnormal gland(s). The traditional operation involves bilateral neck exploration (BNE) to visualise all four parathyroid glands, as around 15% will have multigland disease. This approach is increasingly been replaced by targeted, limited or minimal invasive parathyroidectomy. Reported benefits of minimally invasive parathyroidectomy include reduced complication rates, shorter hospital stays and the potential for local or regional anaesthesia particularly in elderly patients with comorbidities. Minimally invasive parathyroidectomy is dependent on accurate preoperative localisation and in some centres, intraoperative adjuncts such as intraoperative PTH assay is used to ensure adequate treatment. Few studies have proposed predictive tools to differentiate between patients who have single and multigland disease with a view to directing the need for preoperative imaging, intra-operative adjuncts and the extent of surgery. These tools use a combination of serum calcium, parathyroid hormone, imaging (Ultrasound, sestamibi scan), excised parathyroid gland weight. This retrospective cohort study aims to determine if these tools (such as Wisconsin index, CaPTHUS model) can influence decision making at key stages in the management of patients in our population.

Virtual coronary physiology - To compare the physiological impact of two segmentation methods - Dept of Immunity, Infection and Cardiovascular Disease

The final common pathway for patients requiring revascularization with coronary artery disease is the coronary angiogram. The cardiologist makes decisions based upon narrowings seen in the arteries on the 2-dimensional angiogram. This is subjective and inaccurate. We have developed a system of virtual (in silico) 3-dimensional anatomical reconstruction with estimation of the impairment to blood flow using computational flow dynamics based upon those reconstructions. This can provide more accurate information for the cardiologist to use to make decisions about stenting or bypass surgery. Coronary angiograms will be segmented and reconstructed using two similar but distinct methods. The first is a proprietary Philips system which operates on rotational angiography. This has been the basis of our work so far. But we need to allow our system to be applicable to any coronary angiogram. Therefore, the second is a system developed locally within our Group which operates on any standard angiogram. Intracoronary physology will be simulated on paired datasets and the impact of the difference in methods will be analysed. Phantom arteries will also be analysed for a gold-standard comparison.

Liquid biopsy-based testing for melanoma relapse - Dept of Oncology & Metabolism

Melanoma is the most aggressive form of skin cancer, and is increasing in incidence throughout the developed world, with around 15,400 new cases and 2,500 deaths from melanoma in the UK in 2014. The aim of the project is to investigate new ctDNA approaches to detect early metastases in melanoma. Longitudinal samples collected at 3-6 monthly intervals, and matched clinical/pathological data are available for 100 melanoma patients.
The F2 will access patient records to update the follow-up information for all patients, recording disease progression events, sites and dates of progression and dates of death/dates last seen. The existing copy number profile data will be used to investigate the relationship between copy number profile and progression-free survival and overall survival, using graphical approaches and Cox regression adjusting for repeated measures. In addition there will be an opportunity to extend this work by applying novel bioinformatics approaches to the copy number profile data, which will be publishable. The F2 will also determine the tumour mutation burden and neo-antigen burden from a subset of ctDNA samples using an in-house custom-designed sequencing panel.

Neurological complications in patients with Sjogren's syndrome - Rheumatology and neurology department at the Royal Hallamshire Hospital

Neurological complications are common in Sjogren's syndrome. These can in some cases precede the diagnosis of Sjogrens. However, there has been little research done into the prevalence and nature of neurological complications. The study aims to describe neurological manifestations and their prevalence in a cohort of patients with Sjogrens syndrome. The will help to highlight neurological features to be aware of in Sjogrens syndrome and, in some cases, may lead to earlier diagnosis of the disease when neuropathology is the presenting feature.

The cohort used will be patients with primary Sjogren's syndrome attending rheumatology outpatient clinic at Sheffield Teaching Hospital. Data collected from this sample will include demographics (age, gender etc); disease related information (such as time since diagnosis); and neurological symptoms identified during clinic visits. The primary outcome is to analyse the nature and prevalence of neurological complications in patients with primary Sjogrens syndrome.
---
A global reputation
Sheffield is a research university with a global reputation for excellence. We're a member of the Russell Group: one of the 24 leading UK universities for research and teaching.