Improving COVID-19 outcomes and vaccine response in older adults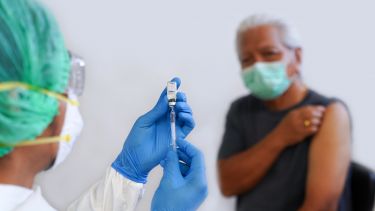 The COVID-19 pandemic is serving as a painful reminder that infectious diseases can have catastrophic effects for older people. 
In an article published in the The Lancet Healthy Longevity Journal, Ilaria Bellantuono, professor in musculoskeletal ageing at the Healthy Lifespan Institute, discusses immunosenescence, geroprotectors, and the importance of including older people in COVID-19 vaccine clinical trials. 
As we age, our immune systems gradually deteriorate as part of a natural ageing process called immunosenescence. This, coupled with the higher rates of chronic health conditions, such as diabetes, heart disease and dementia, amongst the older population, means that they are more susceptible, and less resilient to infectious diseases.
Currently, the promise of a vaccine offers little hope for this group. Immunosenescence not only increases susceptibility to disease but also blunts the effectiveness of vaccines in older people. If the COVID-19 vaccine performs similarly to other flu vaccinations then it is likely to only have a 30 to 40% effectiveness among the most at-risk population.
At the Healthy Lifespan Institute we are investigating various approaches to restore immune function in older adults. One approach is the use of drugs or supplements that target the root cause of ageing and boost patient resilience, known as geroprotectors. Geroprotectors have been shown to improve outcomes for the influenza vaccination in older adults, which suggests they may be useful in the fight to protect the most vulnerable from COVID-19.
Flagship institutes
The University's four flagship institutes bring together our key strengths to tackle global issues, turning interdisciplinary and translational research into real-world solutions.