Training and capacity building
We train the next generation of leaders in the field of healthy ageing, multimorbidity and frailty through our thriving early career network.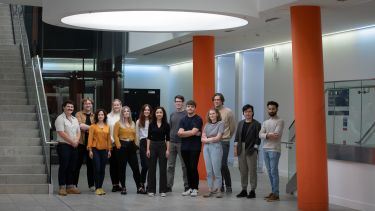 ECR network
Our lively and autonomous early career network is composed of PhD students, Post-doctoral researchers and Fellows who are working to transform ageing from a wide range of disciplines.
PhD students
Our PhD students undertake multidisciplinary projects and are supported by supervisory teams to reflect the diversity of expertise. In addition, they have access to a non-academic mentor in an area related to their project to give the student a different perspective and also an understanding of career outside academia. Students are part of a thriving research culture within the Institute, with the opportunity to attend and give seminars, and to present at our institute annual meeting where they can network with leaders in the field. Elected student representatives become part of the Healthy Lifespan Institute Executive Board and have the opportunity to shape the scientific direction of the institute and their own training programme, which is tailored to their needs. There is emphasis on developing well-rounded researchers with all the skills required for their next career move including presentation, negotiation and leadership skills. Students are encouraged to meet regularly among themselves and organise activities such as career talks or preparing public engagement events, all supported by the Institute.
Post-doctoral researchers and fellows
We recognise that this can be a challenging period in the career of a scientist and that individual needs will be different. For this reason, we provide PDRA and Fellows with 1:1 mentoring from senior members of the Institute. Researchers can directly approach the co-directors or our workstream leads for discussion on career needs and support in application for fellowships. By email or simply by booking a slot to our open door sessions. Researchers external to the university are welcome for to make enquiries and apply for support.
Undergraduate medical students
We are keen for MBChB students to acquire an understanding of ageing, multimorbdity and frailty. We offers projects at various level of the curriculum, as part of the student selected component, elective or part of the BMed Sci. If you do not see a project in this area but would like one, email I.bellantuono@shef.ac.uk we can help you finding the right project and the right supervisor.
If you have any queries or would like to discuss undergraduate, postgraduate, postdoctoral or fellowship opportunities, please do not hesitate to contact us:
Professor Ilaria Bellantuono, Co-Director of the Healthy Lifespan Institute (i.bellantuono@sheffield.ac.uk)
Gemma Stephens, Manager of the Healthy Lifespan Institute (g.stephens@sheffield.ac.uk)