Intergenerational Methods Workshop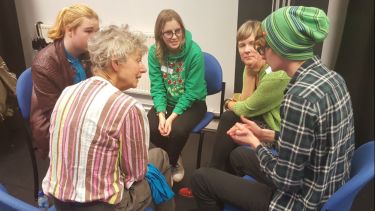 This workshop was organised by the AHRC-funded project INTERSECTION (Intergenerational Justice and Sustainability in Comparative Perspective), a multidisciplinary arts and social research collaboration between the Universities of Sheffield and Leeds.
There has been a substantial recent increase in interest in issues of intergenerationality within geography as well as a range of other disciplines in the social sciences and humanities. This one-day event focused on innovative methodological approaches to researching intergenerational relationships (including both familial and extra-familial relationships). Key themes explored by the invited speakers included:
Intergenerational theatre and other creative approaches to intergenerational research
New approaches to researching questions of intergenerational justice
Participatory approaches to fostering intergenerational solidarity and engagement in relation to sustainability
Using qualitative secondary analysis for intergenerational research
Intergenerational research with refugee families
The ethical dilemmas of intergenerational research
Speakers drew on examples from a range of contexts internationally, including the UK, Ireland, China, Uganda, the Philippines, and beyond.
The event was designed to be a relatively small one (35 participants, including the invited speakers) to promote interaction and discussion.
Participants included:
Members of the INTERSECTION team (Gill Valentine, Robert Vanderbeck, Kristina Diprose, Chen Liu, Katie McQuaid)
Ruth Evans, University of Reading
Caleb Johnston, University of Newcastle
Gina Porter, University of Durham
Michael Richardson, University of Newcastle
Anna Tarrant, University of Lincoln
Contact us
ICOSS,
219 Portobello,
University of Sheffield,
Sheffield S1 1DP
England, United Kingdom
+44 114 222 7900