Research in schools inspiring the next generation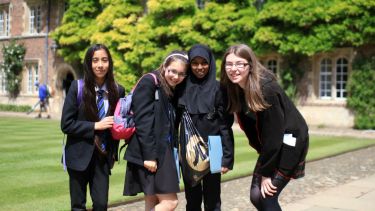 The Brilliant Club is an award-winning charity that works with pupils in non-selective state schools. Its Scholars Programme introduces gifted and talented pupils to PhD and Postdoctoral research in the UK's top universities. The Programme aims to encourage young scholars from underrepresented backgrounds to apply to research-intensive universities, and to realise their academic potential.
Pupils in Years 9 and 10 are completing a course entitled 'Space, time and climate change: Exploring international and intergenerational responsibility', designed and delivered by INTERSECTION UK Research Associate Dr Kristina Diprose.
In weekly Tutorials, the pupils are learning about key concepts in climate change policy, such as the 'polluter pays' principle, analysing qualitative and quantitative social research data from our fieldwork in China, Uganda and the UK, studying key thinkers in human geography, and exploring arts-based research methods.
The first Tutorial was delivered at a Launch Trip at the University of Sheffield on 15 January, which also included a campus tour and welcome from the University's Widening Participation team. On completion of the course, the pupils' achievements will be celebrated with a Graduation Trip to another leading UK university.
Course Tutor Dr Diprose said: "It's an absolute pleasure to be working with pupils from Bradford Academy, especially pupils so dedicated to their studies and eager to learn more about what universities have to offer. It's great seeing our research come to life in the classroom, and inspiring the next generation of scholars."
"As the first in my family to study at university, I know how daunting it can be, but also what doors it can open - in my case leading to a research career that I feel very privileged to have. So when I heard about The Brilliant Club's work linking universities like Sheffield with local state schools, I jumped at the chance to support it." 
For more information about The Scholars Programme, please visit: www.thebrilliantclub.org
Contact us
ICOSS,
219 Portobello,
University of Sheffield,
Sheffield S1 1DP
England, United Kingdom
+44 114 222 7900