Professor Stephen Beck
Department of Mechanical Engineering
Head of Multidisciplinary Engineering Education
Professor of Mechanical Engineering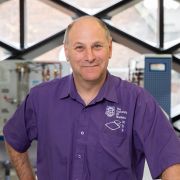 s.beck@sheffield.ac.uk
+44 114 222 7730
Sir Frederick Mappin Building
Full contact details
Professor Stephen Beck
Department of Mechanical Engineering
Sir Frederick Mappin Building
Mappin Street
Sheffield
S1 3JD

Profile

Professor Stephen Beck is a graduate of Bath University where he studied Mechanical Engineering. After graduation he was offered a post at Fermilab in Chicago where he developed software to control anti-protons.

He was awarded his PhD in Mechanical Engineering from the University of Sheffield. His thesis was on the stability of ventilation systems in nuclear power stations. This involved fluid mechanics, waves in pipes and power fluidics.

After several postdoctoral jobs he was offered a lectureship in Thermodynamics at the department. He became a senior lecturer in 2002 and in 2012 he was promoted to a personal chair.

Professor Beck has been working on flow measurement, leak detection, leaks from pipes, leaky gaskets (spot the theme), heat transfer from radiators and building performance. His interest in energy and teaching combined to make him one of the main investigators on the Doctoral Training Centre on energy and the environment.

He is interested in quality enhancement of teaching and has served as Director of Undergraduate Studies and the Director of Learning and Teaching Development for the Faculty of Engineering. He was Faculty Director of Learning and Teaching, coordinating learning throughout the Engineering Faculty from 2008-2014, during which time he oversaw the implementation of a number of major changes to the teaching such as reducing Winter exams, the introduction of activity weeks, and a CPD scheme for teachers and lecturers.

In May 2014, he was appointed to the Headship of Multidisciplinary Engineering Education. This department delivers the practical engineering teaching for the Faculty of Engineering in The Diamond. It supports the aspirations of the faculty to provide a great laboratory experience for students. This £86M building opened in September 2015 and its 50 staff are changing the way that laboratory education is delivered.

He is also working on curriculum design and providing academic support for the AMRC Degree Level Apprentices.

For reasons unknown to even himself, he is also interested in various forms of committee work both within the University and for the Institution of Mechanical Engineers, where he was Vice President and Chair of the Qualifications and Membership Committee. He remains on their Academic Standards panel, accrediting engineering departments.

Other professional achievements:

Past Vice President IMechE
Research interests

Professor Beck's main research interests are in fluid mechanics, notably flow measurement, pipe networks, and leaks in pipes, and his work uses fluidic devices and numerous flow measurement techniques. Professor Beck also has interests in renewable energy, energy use, power production, refrigeration and heat exchange processes. His work is predominantly experimental, but uses CFD and analytical techniques.

He is also researching into waves in fluid pipeline systems. The original work which Professor Beck undertook as part of his PhD and post-doctoral work on the modelling of pressure waves in pipes is being expanded to cover the control and real time analysis of fluid pipeline networks. The signal analysis has led to a novel method of leak detection that works even in branched pipeline systems.

Part of Professor Beck's main research interests is that of fluid flow measurement. He has worked on various fluidic flow devices and is now engaged in projects to improve the accuracy and robustness of orifice plate flowmeters and to examine flow through and after fractal devices.

Professor Beck's teaching of thermodynamics and renewable energy has led to variety of energy based projects and publications on heat transfer, notably from radiators, and energy use in industry and buildings.
Publications

Books

Journal articles

Conference proceedings papers
Research group

Twenty eight of his students have submitted or completed their PhDs and MPhils.

Recent graduates are:

Butterfield, JB, Deriving further information from the leak signal in water distribution pipes, 2018, STREAM DTC student
AlHarbi, H, Leak Detection approach in long pipelines systems, 2018, Kuwait Oil Corporation
Goonekeseera, AK, Performance Optimisation of Hot Water Cylinders, 2017 – KTP assocoiate
Braun, MR, Affect of Climate change on supermarkets, 2015, e-futures DTC student
Buckman, AH, Smart buildings for energy savings, 2016, e-futures DTC student
Tiyafi, P, Leakage in Plastic Pipes, 2015-, STREAM DTC student
Castleton, HF, Energy use in buildings, 2014, e-futures DTC student
Teaching interests

Professor Beck believes that lectures should be to entertain, signpost and inform in that order. As well as giving enthusiastic lectures, he is interested in novel ways of teaching, assessment and providing feedback. He has published papers on his use of podcasts to aid student induction, and (among other things) how he got students to write Haiku summaries of technical papers. He particularly enjoys teaching thermodynamics to first year students because he feels that the first and second laws hold the key to understanding the world and he wants every else to feel the same way.

Between 2008 and 2014 he was Faculty Director of Learning and Teaching for Engineering, and was thus in charge of Learning, Teaching, Assessment and Quality assurance and Enhancement for the Faculty. Arising from this was the idea for The Diamond.

He realised that there was a large amount of commonality in the laboratories (and indeed in other teaching), and by sharing space and equipment across departments, a far better student experience could be obtained. After a few pilot projects, the basic philosophy for The Diamond arose, and the Faculty now has one large, laboratory filled with multiples of equipment for each topic, and students from the entire faculty come to use them.
Teaching activities

AER192: Aerospace Matter Flow and Energy
AER282: Aerospace Fluids Engineering
MEC333: Integrated Design Skills