Information and training for internal staff
This section is for members of staff of the University of Sheffield.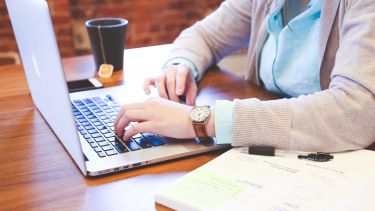 The areas covered in this section include training resources and events, aspects of knowledge exchange (KE), Internal funding opportunities to support KE and collaboration opportunities with non-academic partners including companies, IP commercialisation such as licensing and spin-out formation. You will also find information about research agreements and contracts.
Recordings of previous training events and webinars are available online to University of Sheffield Staff via Kaltura Digital Media Hub.
Intellectual Property and Commercialisation Training
The following videos are recordings from online webinars held by Dr Michael Murray, Entrepreneur in Residence, around Intellectual property and commercialisation. To find out more about Dr Michael Murray and his role as Entrepreneur in Residence, please see his profile on the Meet the Team page
Intellectual Property: What's it to me? A 1 hour session on Intellectual property (IP), with a focus on the main considerations for writing grant applications.
Commercialising Biomedical Innovations A 6-part webinar series on the different aspects involved in translating biomedical research to patient benefit, covering a wide range of topics including market understanding, industry collaborations, intellectual property, commercial strategy, Licensing and Spin-out formation.
Commercialising Medical Technology Innovations A 4-part webinar series on the translation of early stage innovations to the development of medical devices for patient benefit.
Regulatory Training
The following are recordings from online webinars run by Dr Clare Lankester, Regulatory Expert in Residence, which give an overview of medical device regulations and important considerations for academic researchers during early stage projects. You can learn more about Dr Clare Lankester here.
Medical Device Regulatory Affairs A 3-part webinar series aimed at raising awareness and demystifying the regulations governing medical device approval, with a particular focus on how early stage, pre-market, projects fit within the wider regulatory landscape.
Software as a Medical Device (SaMD): Regulatory Affairs A 5-part webinar delivered on  14 Oct 2021, by external regulatory experts (Koen Cobbaert and Zuzanna Kwade). These sessions cover the regulatory affairs related to Software as a Medical Device products, building on the above training by Clare Lankester.
Training Events
If you would like to find out about upcoming training opportunities, or have any specific training or development needs, please email healthcare.gateway@sheffield.ac.uk. Examples of past training events can be seen via the above recordings.
Knowledge exchange (KE) is a process which brings together academic staff, users of research and wider groups and communities such as industry, policy, practice and the public, 
to exchange ideas and expertise to inspire and develop new interventions, products and policies for societal benefit.
Examples of KE enabling activities include (but are not limited to):
Collaborative research and other projects
Consultancy services and commissioned research
Secondment and placement positions
Training and continuing professional development (CPD)
Patenting, licensing technologies, tools or training material, spin-out formation
Briefings and other ways of communicating research
Events with external audiences.
Through mutual exchange and collaboration, the KE process benefits academic teaching, research and wider society.
If you would like to understand more about KE please contact your Departmental KE lead or contact the KE and Commercialisation manager supporting your department or area (see 'meet the team' page). 
 
| | |
| --- | --- |
| Department | Departmental KE Lead |
| Dentistry | Dr Aileen Crawford (Deputy, Dr Ilida Ortega) |
| Oncology & Metabolism | Prof Angela Cox |
| Neuroscience | Dr Heather Mortiboys |
| Infection Immunity & Cardiovascular Disease | Dr Paul Morris |
| Health Sciences School | Dr Stuart Cunningham |
| School of Health and Related Research (ScHARR) | Dr Suzy Paisley |
The impact from excellent research can be realised in many forms. It is the change, influence or benefit that occurs outside academia from research. It occurs when organisations, policymakers, communities or individuals use your research to address issues, improve public discourse and policies, health and well being or increase cultural capital or the economy.
Please find further information on the Research Services website. 
If you would like to talk further about Impact please contact your Departmental Director of Impact and Innovation or:
Faculty Impact Manager (Faculty of Medicine, Dentistry and Health)
Sarah Howson
T: 0114 222 8740
The University of Sheffield has a number of internal funding opportunities. These include:
Knowledge Exchange (KE)
Faculty Innovation Funding – for further information on this please contact your designated Business Manager from the Sheffield Healthcare Gateway. 
For further information regarding licensing opportunities please visit the University of Sheffield online licensing portal.  This gives access to 'click to buy' intellectual property developed by our researchers.  Please click on the link attached: online licensing portal.
Information about agreements to cover confidentiality (CDA), material transfer (MTA) or collaborative research can be found on the Research Services contracts webpage. These can be requested via MyResearch on MUSE or via the 'request a contract' link on this webpage.
For information on services rendered agreements please see here. To request a services rendered agreement, please complete the online services rendered costing and proposal form.
For information on consultancy agreements please see here. To request a consultancy agreement, please complete the online consultancy costing and proposal form.
A world top-100 university
We're a world top-100 university renowned for the excellence, impact and distinctiveness of our research-led learning and teaching.