Community engagement at the Division of Nursing and Midwifery
The School of Nursing and Midwifery aims to become a 'Dementia Friendly' department, an initiative inspired by the Alzheimer's society, in the aim to give students an awareness of what it means to live with dementia which will be essential for future practice.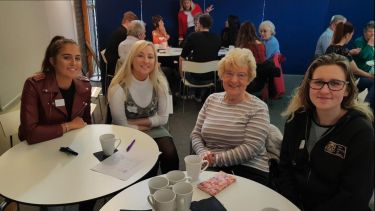 Dementia awareness
Staff and students have been attending a rolling programme of 'Dementia Friends' sessions delivered by a 'Dementia Friends Champion'.
These hour-long sessions offer a non-medicalised perspective of what it means to live with dementia as well as championing positive ageing. This provides an invaluable perspective of Demenita that differs from taught lectures.
To further develop our understanding of what it means to live with Dementia we have initiated a 'Dementia Café in order to enable people with lived experience of dementia to contribute to student learning.
The aims of this initiative are to firstly add a social date in the diary for people living with dementia and their family carers and secondly to provide an opportunity for our students to learn directly through communicating with people living with dementia and their family carers. This again offers a different 'non classroom' approach to learning. Following positive evaluations, we had a second café in March 2018.
Our aim is to secure longer term funding to make these cafes a regular event offering contribution to the local community of people with dementia whilst also enabling the education of our students to be informed of the lived experience of dementia.
A world top-100 university
We're a world top-100 university renowned for the excellence, impact and distinctiveness of our research-led learning and teaching.