Academic clinical fellowships
Running over 3 to 4 years, an academic clinical fellowship combines medical training with academic training.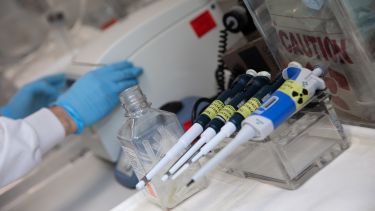 NIHR Academy IAT research themes
The NIHR funds clinical academic training for doctors and dentists through the Integrated Academic Training (IAT) Programme.
We have one unfilled ACF post for 2021. This post will be advertised in the autumn alongside 2022 posts.
Sheffield has hosted academic clinical fellowships in over 35 specialties. The specialties offered at ACF level vary each year but have recently included:
What does the academic placement involve?

The ACF undergoes training in the generic skills required for a clinical academic: scientific methods, statistics, research governance, critical appraisal of research publication, grant writing etc. Modules are chosen from those provided for the MSc in Clinical Research or continuing professional development. Trainees can choose the modules most relevant to them. The major part of the academic placement will be scientific research which can lead to a proposal for a PhD project, funding for which will be sought from an external body such as the NIHR, MRC or the Wellcome Trust. Generally the preparation of the proposal is based on preliminary experimental data gathered while on the research placement.

Who can apply for an ACF?

Individuals who have achieved competencies relevant to the level of post advertised and can demonstrate that they have outstanding potential for development as a clinical academic in research and/or education. Individuals may have had previous clinical academic experience either at an undergraduate level (BMedSci) or postgraduate level (F2 Academic placement, MSc). For more details on eligibility please see the NIHRTCC webpages. Posts are generally offered at ST1 or ST3, depending on the speciality.

How to apply

For details of the specialities available and how to apply visit the Health Education Yorkshire and the Humber website

In 2018, The University of Sheffield were awarded their largest ever cohort of NIHR ACF posts (23) across all specialities. 

Want to know more? Contact one of our current ACFs for the inside view:

Dr Matthew Clark, ACF in Trauma & Orthopedics since 2016

Dr Roshan Gunasekera, ACF in Sports & Exercise Medicine since 2016

Dr Melody Redman, ACF in Paediatrics since 2016

Career paths

A successful ACF will obtain competencies relevant to their level of training and obtain external funding for a higher degree (research training fellowship). In the event that an ACF fails to obtain external funding for a higher degree or wishes to leave the clinical academic training pathway, they can apply to move into an available clinical position.
Dr Rebecca Gosling describes her journey from Academic Foundation to Clinical Research Fellow.
---
Features of the Sheffield programme:
All trainees can enrol on modules of the MSc in Clinical Research or take a selection of courses appropriate to their needs.
All trainees have a bursary of £1000 a year to attend conferences and meetings specific to their research project area.
Health Education Yorkshire and the Humber holds an academic presentation day each year at which all trainees have the opportunity to present posters or give talks.
The clinical academic programme holds an away day each year on a subject relevant to clinical academics. The programme, together with the Clinical Academic Society, also holds an annual gala dinner.
The Medical School provides a fellowship coaching scheme to help trainees prepare for their fellowship applications. This includes advice on applications and a mock interview geared to the style of the particular application being made.
There is an active Clinical Academic Society which holds events and organises peer mentoring for trainees.
Clinical academic trainees have access to an on-line portal which is used to improve communication with all trainees and record details of meetings and outputs.
The trainees have formed a Clinical Academic Society to assist with career development, communication between trainees, and organise social events.
Sheffield has a well-established Clinical Academic Mentoring Programme; recognising that clinical trainees have their own specific career development needs, this links trainees with mentors who are Clinical Academics themselves and who can help trainees with their research plans and help them balance the competing aspects of their lives and careers. A peer mentoring programme, where more senior clinical academics mentor those a stage below, is being piloted by the Society.
---
The opportunities have been amazing: formal teaching, research qualifications, direct support of my own research and particularly networking which has opened more doors. The ACF has broadened and enriched my career.

David Pallot

Academic Clinical Fellow in Emergency Medicine
---
Lynsey Grieveson l.grieveson@sheffield.ac.uk
or Rosemary Badcoe r.badcoe@sheffield.ac.uk.

All posts are applied for through the Health Education Yorkshire and Humber site, where an up to date list of available posts can be found.
Flagship institutes
The University's four flagship institutes bring together our key strengths to tackle global issues, turning interdisciplinary and translational research into real-world solutions.