Crossing the blood brain barrier - imaging human brain perfusion with hyperpolarised xenon-129 MRI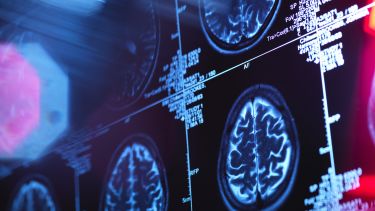 Xenon-129 is a naturally occurring isotope of xenon that can be detected in the body using magnetic resonance imaging (MRI). When a low concentration of atoms are present in the gaseous state, the magnetic resonance signal can be boosted ("hyperpolarised") using a technique called spin-exchange laser optical pumping. Hyperpolarised xenon-129 gas can be safely inhaled in the lungs in small doses, and we now regularly use xenon-129 MRI for looking at lung function in patients referred from the NHS in Sheffield (see Figure d).
However xenon MRI also dissolves into the pulmonary blood stream where it is transported to distal organs such as the brain and kidneys which means we are also able to use MRI to look at these organs. MRI with hyperpolarised xenon-129 requires special instruments and methods, and imaging the human brain is particularly challenging as only a small fraction (~5 %) of inhaled xenon-129 is transported from the lungs to the brain.
Within the POLARIS group at the University of Sheffield, we have developed highly-sensitive equipment which has allowed direct imaging of human brain perfusion with hyperpolarised xenon-129 MRI for the first time.
The signal intensity in the image is a proportional to the uptake of xenon gas in the brain tissue, and thus provides unique insight into gas-exchange dynamics within the neurovascular system. To our knowledge, this is the only MRI method currently available to provide direct visualisation of gas exchange in the brain.
We are now keen to explore the unique properties of this novel and safe inhaled contrast agent, which readily crosses the blood brain barrier in exploring brain physiology and diseases in clinical studies.
This research has recently been published in 'Radiology': DOI: 10.1148/radiol.2017162881
Flagship institutes
The University's four flagship institutes bring together our key strengths to tackle global issues, turning interdisciplinary and translational research into real-world solutions.