Dr Thushan de Silva
MBChB BSc (Hons) DTM&H MRCP FRCPath PhD
Department of Infection, Immunity and Cardiovascular Disease
Senior Clinical Lecturer in Infectious Diseases and Honorary Consultant Physician in Infectious Diseases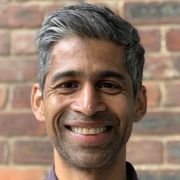 t.desilva@sheffield.ac.uk
+44 114 215 9522
The Medical School
Full contact details
Dr Thushan de Silva
Department of Infection, Immunity and Cardiovascular Disease
The Medical School
Beech Hill Road
Sheffield
S10 2RX

Profile

For enquiries, please contact – iicd-operational@sheffield.ac.uk

I completed my undergraduate medical training at the University of Bristol in 2000. Following postgraduate clinical training in General Internal Medicine, Infectious Diseases and HIV in Oxford and London, I moved to Sheffield for higher specialist training in Infectious Diseases & Microbiology in 2004. I was awarded a British Infection Society Research Fellowship (2007-8), followed by an MRC Clinical Research Training Fellowship and PhD (2008 – 11) under the supervision of Professor Sarah Rowland-Jones (Oxford/Sheffield) and Professor Robin Weiss (UCL) to study the pathogenesis of HIV-2 infection and the molecular epidemiology of HIV-1 and HIV-2 in West Africa, based primarily at the MRC Unit The Gambia.

I joined the University of Sheffield in 2013 as an NIHR Academic Clinical Lecturer in Infectious Diseases & Microbiology and was awarded an Academy of Medical Sciences starter grant to undertake pilot studies of live attenuated influenza vaccination (LAIV) in adult volunteers. Data generated during these lead to the successful award of a Wellcome Trust Intermediate Clinical Fellowship in 2016 under the sponsorship of Professor Beate Kampmann (MRC Unit The Gambia/LSHTM), based between Imperial College London and the MRC Unit The Gambia.

I returned to the University of Sheffield as a Senior Clinical Lecturer in 2020. I am part of the Academic Clinical Infection Group in the Department of Infection, Immunity and Cardiovascular Disease (IICD), along with Prof. Sarah Rowland-Jones, Dr. Tom Darton and Dr. Paul Collini.  I have been an Honorary Consultant Physician in Infectious Diseases at the South Yorkshire Regional Department of Infection and Tropical Medicine in Sheffield since 2016. I continue to be a Visiting Scientist and Principal Investigator in the Vaccines and Immunity Theme at the MRC Unit The Gambia at LSHTM and am also an Honorary Associate Professor at the London School of Hygiene and Tropical Medicine.
Research interests

My work focuses broadly on the following areas and is increasingly integrating next-generation sequencing data with immunology, clinical and epidemiological data derived from clinical trials and observational studies in human cohorts:

Anti-viral immune responses in the context of vaccination and natural infection, Building on skills gained during my PhD, which characterised HIV-specific humoral and T-cell correlates of protection from disease progression in HIV-2 infection in West Africa, a major focus now is on the innate and adaptive immune response to influenza and influenza vaccines. I am now also involved in studies characterising the magnitude and durability of SARS-CoV-2 specific T-cell responses across the COVID-19 disease spectrum.

SARS-CoV-2 molecular epidemiology. As part of the COG-UK consortium, I am leading SARS-CoV-2 sequencing in Sheffield, including a specific focus on the use of rapid sequencing in tracking hospital transmission and utility to infection, prevention and control. I am also part of efforts to enhance the availability of SARS-CoV-2 sequence data and analysis in West Africa.

The molecular epidemiology of potentially vaccine-preventable infections that have a high burden yet are relatively neglected in low and middle-income countries. E.g. influenza, SARS-CoV-2 and other respiratory viruses, Streptococcus pyogenes, Staphylococcus aureus.

Key Current Projects
Publications
Teaching interests

I am involved in delivering the undergraduate (MBChB) Infectious Diseases, Tropical Medicine and Microbiology curriculum at the University of Sheffield. I also lecture on the MSc in Antimicrobial Resistance (Florey Institute). I am also involved in the Sheffield Diploma in Tropical Medicine and Hygiene (DTM&H) course that prepares candidates to sit the Royal College of Physicians DTM&H examination.
Professional activities

Associate Editor, Journal of Infection (2019 - present)
Associate Editor, Transactions of the Royal Society of Tropical Medicine and Hygiene (2019 - present)
The Florey Institute Management Board, University of Sheffield (2019 - present)
University of Sheffield Biosafety Committee (2019 - present)
British Society of Blood and Marrow Transplantation, post-haematopoietic stem cell transplantation vaccination subgroup (2020 – present)