Equality, diversity and inclusion in Music
The Department of Music is recognising ways in which we need to do more to create an equal, diverse and inclusive environment. We are implementing these principles in our work and relationships.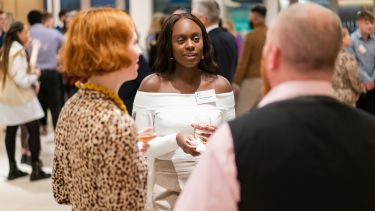 Off
We have agreed a set of EDI Principles to guide all aspects of our work, including teaching and research. These principles are designed to ensure that we become a more equal, diverse and inclusive place to study and work.
Our principals support our commitment to train the next generation of music professionals whose diversity of background and experience reflects life in the 21st century.
We are working to improve the diversity of our learning environment, for example by:
Actively seeking to employ teaching staff from a diverse range of backgrounds
Operating a Department EDI committee group which will take a strategic perspective on how best to enhance the Department's EDI strategy, aligned to the strategic priorities of the Department, University and Faculty
Engaging in a staff reading group which will focus on understanding the lived experience of people from minoritised or stigmatised groups
Actively seeking to recruit students from a diverse range of backgrounds and to providing tailored support throughout their time in the Department
Reflecting on how what and how we teach affects students' experience in different ways depending on their positionalities
Representing a diverse environment for learning on our online material such as our website and social media
Embedding a diverse programme of events into the University Concert Series 
We are working towards greater equality, diversity and inclusion in our research and teaching, for example by:
Decolonising the curriculum, including decentring white perspectives
Informing public understandings of equality, diversity and inclusion and helping to deliver positive change through the focus of our research and how we work with our partners
Ensuring diversity and inclusion in Department research seminars and other research events we organise 
Actively seeking to employ research staff from a diversity of backgrounds
Actively seeking to collaborate with diverse organisations and colleagues
Having a positive impact on people and places through research and teaching, undertaken in partnership with the diverse communities of South Yorkshire and beyond
All staff and students are involved in our work towards greater equality, diversity and inclusion:
We are all responsible for supporting efforts to foster a Department culture that promotes equality, diversity and inclusion
We ensure that all staff and students are familiar with our EDI Principles by embedding them into our meetings, committees and working practices, and by providing training to explain them and raise awareness
We welcome a diverse range of staff by making workplace alterations and adjustments, ranging from flexible working to increasing the accessibility of workspaces for people with disabilities     
Every member of staff identifies an EDI objective as part of their annual appraisal 
The University of Sheffield is progressing our work on gender equality through an application for Athena Swan accreditation
A world-class university – a unique student experience
Sheffield is a research university with a global reputation for excellence. We're a member of the Russell Group: one of the 24 leading UK universities for research and teaching.