The application process can seem daunting at first, but there is plenty of support and advice available to help you guide your child.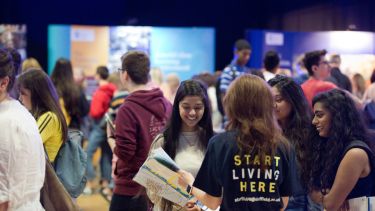 The journey to higher education
We have set out the key stages of the UCAS application process to help assist you throughout.
---
Year 12
February - June
UCAS exhibitions
We attend UCAS exhibitions across the country, giving your child the first opportunity to meet us face to face.
Choosing a university

There is no right or wrong way to choose a university. But here are some things you can prompt your child to research:

League tables: These can be used to compare universities. Don't forget to check the subject rankings. The Times and Guardian league tables are a good place to start.
Location: Your child should consider how far they want to be from home. If they decide to move away then it's worth checking out accommodation and the cost of living. Sheffield is an affordable city with great transport links across the country.
City vs campus: Some universities are based in a city and some are on a campus with all their facilities close together. The University of Sheffield offers both.
Student experience: University is more than just a degree. Your child should research support available and the sports, clubs and societies on offer.
Other opportunities: Your child should think about what will add value to their degree. This could be studying abroad or undertaking a placement. At Sheffield the majority of our courses offer both.
---
June - October
Open days
Open days are the perfect place to meet staff and students, explore the campus and accommodation, and find out what Sheffield is like.
Being shown round the University buildings and being able to talk with the student ambassadors was invaluable.

Parent of 2nd year student
Choosing a course

With over 50,000 courses available at UK universities it's important to choose the right one. Here's how to help your child make an informed decision: 

Subject: What is your child currently studying and what do they enjoy? Universities will provide information on what their subjects allow them to do beyond the traditional pathways. Its important to look at what is taught on the degree at different universities as they won't all be the same.
Styles of teaching: Your child should consider what learning style they are most suited to as subjects are taught in different ways. They can look for tutorials, lab time, presentations, group work, independent projects and lectures.
Careers: Your child's career aspirations may determine the degree they will study. Some professions require a degree. They can also research their dream job and speak to staff at school or university.
Entry requirements: These will differ from course to course and university to university. Some degrees require certain subjects and some won't.
---
Year 13
September
Time to apply
Once your child has decided on subjects and universities, it is time to apply online via the national Universities and Colleges Admissions Service (UCAS). Universities will issue their decisions on applications through the UCAS Track portal.
Application tips

Your child will apply for an undergraduate course via UCAS.

Read our undergraduate applying essentials

Their school or college should provide advice and support on the process. They can also refer to UCAS.

A personal statement can help your child secure a place. We've put together some tips on what this should focus on: 

Why do they want to study the subject? Demonstrate their enthusiasm, highlight their career plans and how the degree will help.
What makes them a good applicant? Outline their skills and experience and show their potential to stand out.
What else do they do? Showcase things that make them interesting. These don't need to be related to the course and could be sport, social responsibilities or special achievements.
---
October
UCAS application deadline for Medicine and Dentistry courses
---
November - April
Offer holder days
Once your child has an offer they will be invited to an offer holder day. Here, they will spend more time in the department taking part in lectures and talks, with the chance to meet current students studying their chosen subject.
---
January
UCAS application deadline for the majority of courses
Over the next few months, universities make their decisions about whom to offer places to. Sometimes this decision may involve the university asking the student to attend an interview.
If successful, the university will make the student a conditional or unconditional offer.
Understanding university decisions
A conditional offer is an offer of a place that is dependent on the student achieving certain grades or points in their forthcoming A Levels or other exams.
An unconditional offer is made if the student has already achieved the required grades.
---
March
Apply for Student Finance
Applicants can apply online for their student loans from early March.
---
May
Making a Firm and Insurance choice
Applicants will usually accept two offers, their Firm and Insurance choice
Firm vs insurance
Firm is the student's first choice – the place they most want to go to. If they accept a conditional offer from us and meet the conditions, they'll have a confirmed place here.
Insurance: this is the choice the student would want if they didn't meet the conditions of their firm choice. If this is a conditional offer, they'd need to meet the conditions for their place to be confirmed.
---
August
Exam results
Confirmation, Adjustment and Clearing
When exam results are released, the Firm and Insurance universities will decide whether or not they can confirm your child's place. Adjustment and Clearing opens for students who don't have a confirmed place, or who would prefer to go elsewhere.
---
September
Moving weekend and welcome week
It's the end of one journey and the start of an exciting new one.
A world top-100 university
We're a world top-100 university renowned for the excellence, impact and distinctiveness of our research-led learning and teaching.