Additive Manufacturing and Advanced Manufacturing Technologies
Department of Mechanical Engineering, Faculty of Engineering

Research-led learning with real engineering challenge and opportunity.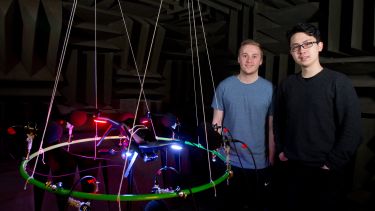 Course description
This course is designed to expand your knowledge and skills in the rapidly developing field of additive manufacturing and advanced manufacturing technologies.
With specialist modules in additive manufacturing, state-of-the-art manufacturing technologies, materials and a broad range of modules in advanced mechanical engineering, you'll also carry out an industry-focused research project on additive manufacturing.
Working with both commercial and bespoke manufacturing technologies using high-performance materials, your research project will take place within the Centre for Advanced Additive Manufacturing (AdAM) under the guidance of world-leading academics in the field.
Accreditation
All our MSc courses are accredited by the Institution of Mechanical Engineers and meet, in part, the academic requirements for Chartered Engineer status. Our MSc graduates who also have an accredited BEng (Hons) will be able to show they have met all the academic requirements for Chartered Engineer (CEng) status.
Modules
Core modules
MSc (Res) Individual Research Project
Professional Development Portfolio
Masters Research Mini Project
Technical Communication for Mechanical Engineers
Strategic Engineering Management and Business Practices
Additive Manufacturing – Principles and Applications
Mechanics and Applications of Advanced Manufacturing Technologies
Optional modules
A wide selection including (but not limited to):
Fundamentals and Applications of Tribology
Human Factors and User-Centred Design
Human Movement Biomechanics
Design and Manufacture of Composites
Materials for Energy Applications
Advanced Dynamics
Automotive Powertrain
For more information on optional modules available for this course, please see the course page on the Department of Mechanical Engineering website.
Teaching
You'll learn through a variety of teaching methods to support your learning including:
Tutorials
Lectures
Practical work
Group project work
Virtual learning environments
Individual research
Assessment
Our assessment methods are designed to support the achievement of your learning outcomes and develop your professional skills. This may include:
Integrated projects
Examinations
Portfolio work
Regular feedback is also provided, so you can understand your own development throughout the course.
Duration
12 months full-time
It feels like you're really at the cutting edge and doing things that will make a difference for the future.
MSc (Res) Additive Manufacturing and Advanced Manufacturing Technologies
Entry requirements
Minimum 2.1 or equivalent in mechanical engineering or a related subject.
If you have qualifications in other subjects, or you have relevant professional experience, we'll consider your application.
English language requirements
Overall IELTS grade of 6.5 with a minimum of 6.0 in each component, or equivalent.
You can apply for postgraduate study using our Postgraduate Online Application Form. It's a quick and easy process.
The course information set out here may change before you begin, particularly if you are applying significantly in advance of the start date.