Department of Molecular Biology and Biotechnology, Faculty of Science

This course gives you a real-world insight into the approaches used to tackle the global threat of antimicrobial resistance and prepares you for an exciting career in this area. You'll receive hands-on training from our Florey Institute scientists, NHS clinicians and biotechnology industry experts.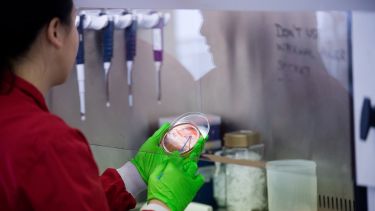 Course description
Antimicrobial resistance (AMR) poses an increasingly serious threat to global public health. It occurs when the microorganisms that cause infection survive exposure to a medicine that would normally kill them or stop their growth. But AMR is no longer a prediction for the future, it's happening right now with drug resistant infections already causing up to 50,000 deaths each year in Europe and the US alone.
Now more than ever we need a better understanding of the global spread of resistance in order to limit the current and impending future threat. The development and spread of AMR is complex, making prevention and control equally challenging and requiring a multi-disciplinary approach. That's why our experts behind the University of Sheffield's multimillion pound Florey Institute have developed the MSc Antimicrobial Resistance programme to train the healthcare workers, policy makers and scientists of tomorrow. 
If you have a strong interest in infectious disease, antibiotics and their use in healthcare and infection control then this course will prepare you for an exciting career in this area. The Antimicrobial Resistance MSc will give you hands-on training and a real-world insight into the different approaches used to tackle the global threat of AMR.
Intercalation
We accept medical students who wish to intercalate their studies. Find out more on the Medical School's website.
Modules
Core modules
Infectious Disease and Antimicrobials

AMR and Current Clinical Practice

Global Policy, Disease Control and New Therapies

Research and Communication across the Disciplines

Developing Communication Skills

Research Project in Antimicrobial Resistance
Teaching
You'll learn through a mixture of working in a research laboratory, lectures, seminars, workshops and small-group discussions.
Assessment
Assessment includes, but is not limited to, a project report, examinations, essays and a portfolio.
Duration
1 year full-time
2 years part-time
Entry requirements
A 2:1 BSc honours degree or equivalent in a biological science. We will consider applicants from other science, engineering or maths backgrounds on a case-by-case basis.
We also accept medical students who wish to intercalate their studies.
English language requirements
Overall IELTS grade of 6.5 with minimum of 6 in each component, or equivalent.
You can apply for postgraduate study using our Postgraduate Online Application Form. It's a quick and easy process.