Archaeology of the Classical Mediterranean
Department of Archaeology, Faculty of Arts and Humanities

Through imaginative teaching and world-leading research, we inspire our students to explore.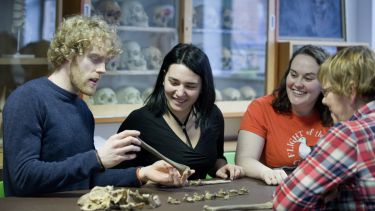 Course description
Our approach to this subject is comprehensive and challenging. We don't just focus on the Greek and Roman worlds – we also examine the cultures of neighbouring regions. And we consider the whole range of data. By systematically exploring data such as material remains – which sometimes complement and sometimes contradict the textual record – we aim to deepen your understanding.
Our focus on neighbouring regions allows us to explore themes of cultural interaction, identity and mobility. Rather than consider each subject separately, from a single point of view, we want you to understand how societies and cultures have developed in relation to each other, over time.
We're interested in the potential of modern techniques to explore ancient history, so we encourage you to be innovative. We want you to bring a fresh perspective to the subject, to think, question, challenge, and think again.
Modules
Core modules
Greeks, Romans and 'Others' in the Ancient World
Reinventing Archaeology
Research Design: Planning, Execution and Presentation
Dissertation
Optional modules
Choose from a range of optional modules. These might include:
Current Issues in Aegean Prehistory
Mediterranean Landscapes
Heritage, Museum and Field: Archaeology in Practice
Roman Italy and its Hinterland
The Archaeology of Cyprus
Funerary Archaeology
Applied Archaeological Science
Archaeobotany
Archaeozoology
Rethinking the Ancient Economy 
Enhanced Languages Project (Modern Language Teaching)
Relevant Modules from the Department of History
An optional

15-credit module from the Faculty of Arts and Humanities
Teaching
You can expect a balanced timetable of lectures, seminars and practicals. You'll have access to specialist labs and world-class reference collections. Many of our masters courses include a fieldwork or project-based component.
We integrate humanities and science-based approaches to nurture a deeper understanding. You'll have the opportunity to explore different viewpoints and make up your own mind about their strengths and weaknesses.
We'll help you to develop your critical thinking as well as your practical skills. What we ask of you, as a member of our lively academic community, is that you challenge, question, and explore.
Duration
1 year full-time
2 years part-time
The course is a mixture of lectures and seminars, which developed my skills and knowledge while preparing me for my dissertation and future goals. Friendly and approachable staff are on hand to support you throughout the course.

Lorna Gosling
MA Archaeology of the Classical Mediterranean
Entry requirements
Usually a minimum 2:1 honours degree in an arts, humanities or science subject. But your interest in and understanding of archaeology is more important than what you studied at undergraduate level.
English language requirements
Overall IELTS grade of 6.5 with a minimum of 5.5 in each component, or equivalent.
Fees and funding
Studentships
If you accept a place on a course, you may be eligible to apply for White Rose College of the Arts and Humanities (WRoCAH) and University of Sheffield studentships. We also offer a number of department and course-specific scholarships. 
See the department's fees and funding page for more information.
You can apply for postgraduate study using our Postgraduate Online Application Form. It's a quick and easy process.
The course information set out here may change before you begin, particularly if you are applying significantly in advance of the start date.