School of Architecture, Faculty of Social Sciences

Develop your own distinctive design practice on this studio-based course.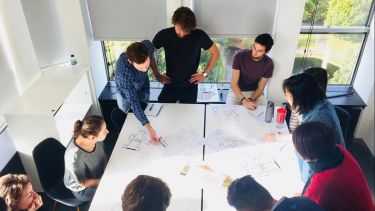 Course description
This course will help you develop a distinctive design practice, underpinned by social dynamics and architectural culture.
You'll explore, challenge and inform contemporary architectural design practice through seminars, research, studio project work and field trips.
Through our live projects you can work with local, regional and international groups on real-life challenges. You could be building, designing urban masterplans or designing in detail. You will specialise in the theory and practice of design to develop the skills and knowledge to be a thoughtful, creative and original practitioner or scholar.
You can take the course as a stand-alone MA or as preparation for a PhD via our PhD by Design programme.
We are one of the UK's top architecture schools. Our teaching staff are doing world-class research, helping to make the school a leader in our field across the UK and internationally. Through our teaching and research, we explore the social, spatial and environmental implications of architecture. As a Sheffield student you will engage with real issues affecting the built environment.
What to include with your application
Modules
Core modules
Special Design 1 'Live Project'
Design Project 1 and 2
Reflections on Architectural Design
Thesis Design Project
Environment and Technology in Design
You will be able to choose a route of study based on your area of interest from options available.
Optional modules
Choose from a range of optional modules. These might include:
Reflections on Architectural Education
Critical Spatial Theory
Politics of Architecture and Urban Design
Future Climates and Architecture
Building Environmental Simulation and Analysis
Parametric Architectural Geometry
Elements of Computational Design
Materials for Low Impact Building
Theory and Research in Design
Conservation and Regeneration Principles and Approaches
Participation in Architecture and Urban Design
History and Theory of Urban Design
Teaching
Learning is through studio-based design work with individual and group tutorials, block seminars and workshops, traditional lecture modules, live projects involving real clients and real community projects.
Assessment
You'll be assessed on course assignments, design thesis and a dissertation.
Duration
1 year full-time
Our course teaches us about the community we live in, how to approach our ideas and designs, and how to use new technology to create a better vision. Using these skills I can make a better future for our community, who are our real clients. After my MA I plan to apply for a PhD at Sheffield.
Entry requirements
You'll need a 2:1 honours degree or an equivalent qualification related to design in the built environment. Related subjects include: design, architecture, art, computing, engineering, social sciences and education or any other discipline that has a demonstrable relationship to some aspect of architectural design and/or research.
Your degree doesn't have to be design-based. If you have a lot of professional design experience we'll consider your application. We'd like to see your portfolio to get an idea of your design abilities.
English language requirements
Overall IELTS grade of 6.5 with a minimum of 6.0 in each component, or equivalent.
You can apply for postgraduate study using our Postgraduate Online Application Form. It's a quick and easy process.
The course information set out here may change before you begin, particularly if you are applying significantly in advance of the start date.