Architecture and Landscape Architecture
School of Architecture, Faculty of Social Sciences

A unique opportunity to qualify as both an architect and a landscape architect.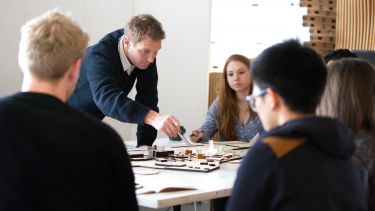 Course description
This course is a unique opportunity to qualify as both an architect and a landscape architect. It is open to students with previous combined or separate degrees in both architecture and landscape architecture.
Your study focuses on a range of themed, design-based studios dedicated to specific areas of practice or research. There are compulsory modules in landscape architecture, humanities, management, building and plant sciences, and an integrated architecture and landscape architecture project. You'll also have the opportunity to work with local or regional groups on a real-life challenge through our Live Projects initiative.
To qualify you'll produce at least one comprehensive design project.
We are one of the UK's top architecture schools. Our teaching staff are doing world-class research, helping to make the school a leader in our field across the UK and internationally. Through our teaching and research, we explore the social, spatial and environmental implications of architecture. As a Sheffield student you will engage with real issues affecting the built environment.
Validated by the Royal Institute of British Architects (RIBA) at Part 2, the Landscape Institute (LI) at Part 3 and prescribed by the Architects Registration Board (ARB)
Modules
Core modules
Year 1
Design 1 and 2

Architectural Research Methodologies

Environment and Technology 1

Management and Practice 1

Landscape Professional Practice

Design Research Study

Urban Landscape Planning
Year 2
Design 3

Live Projects 2

Design Manifesto

Environment and Technology 2

Management and Practice 2

Special Project
Teaching
Our design teaching is studio based with several research-led options. Programmes run by specialist staff link together lectures, studio work and research.
Assessment
Each module is assessed individually by coursework. 
Duration
2 years full-time
Involvement with both courses simultaneously develops a holistic approach to design while giving you knowledge and skills adaptable for all projects. The dual course broadens my career opportunities and strengthens my desire to work in a multidisciplinary practice.

Emma Koch
BA Architecture and Landscape, MArch Architecture and Landscape
Entry requirements
You'll need a BA architecture and landscape architecture combined degree, or BA architecture and a separate BA landscape architecture, 2:1 or equivalent, from a RIBA/ARB/LI-approved institution, along with nine months in practice.
You should have RIBA Part 1 or equivalent.
We will ask to see your design portfolio.
English language requirements
Overall IELTS grade of 6.5 with a minimum of 6.0 in each component, or equivalent.
Find out how to apply on the School of Architecture's website:
The course information set out here may change before you begin, particularly if you are applying significantly in advance of the start date.