Architecture: Collaborative Practice
School of Architecture, Faculty of Social Sciences

This course gives you the chance to work with some of the country's top architectural practices. It blends practice-based experience with academic research and learning.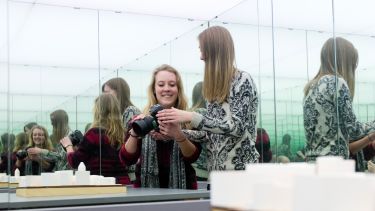 Course description
This course blends practice-based experience with academic research and learning.
It is a two-year, full-time masters. You'll undertake two semesters of practice-based education in the initial year and two semesters of University-based education in the second year.
The course offers you a unique opportunity to develop your experience working with some of the UK's top architectural practices.
In the first year, a combination of practice-based seminars, tutorials, peer-to-peer learning and lectures develop the intellectual requirements of a University education within a professional context. The programme builds upon and runs alongside our MArch in Architecture course, with students studying together in the second year.
We are one of the UK's top architecture schools. Our teaching staff are doing world-class research, helping to make the school a leader in our field across the UK and internationally. Through our teaching and research, we explore the social, spatial and environmental implications of architecture. As a Sheffield student you will engage with real issues affecting the built environment.
How to apply
To apply for this course you should be currently working at a partner practice. However, if you are interested in the course and not working in one of the partner practices, we encourage you to contact us.
Validated by the Royal Institute of British Architects (RIBA) at Part 2 and prescribed by the Architects Registration Board (ARB)
Modules
Core modules
Year 1 
Live Project 1

Architectural Research Methodologies

Management and Practice 1

Reflective Design Practice

Environment and Technology in Practice 1

Dissertation Proposal: Collaborative

Practice

Reflections on Architectural Practice
Year 2 
Design 3 and 4

Live Project 2

Design Manifesto

Environment and Technology 2

Management and Practice 2

Dissertation: Collaborative Practice
Teaching
Our design teaching is studio based with several research-led options. Programmes run by specialist staff link together lectures, studio work and research.
Assessment
Each module is assessed individually by coursework.
Duration
2 years full-time
I chose this course as it was rooted in reality, allowing me to reflect on practical experience. It merged an academic learning environment within a practical setting, allowing me to earn while I learned. I think the course has empowered me by encouraging me to self-reflect and also by giving me the opportunity to look 'behind the curtain' at top UK practices.

Yanni Pitsillides
MArch in Architecture: Collaborative Practice
Entry requirements
You'll need a BA Architecture 2:1 or equivalent, along with nine months in practice.
You should have RIBA Part 1 or equivalent. If you do not have RIBA Part 1, you might still be offered a place but it will be your responsibility to gain Part 1. You can do this while you're here on the MArch course. More information on this is available on the ARB website.
We will ask to see your design portfolio.
 
English language requirements
Overall IELTS grade of 6.5 with a minimum of 6.0 in each component, or equivalent.
Find out how to apply on the School of Architecture's website:
The course information set out here may change before you begin, particularly if you are applying significantly in advance of the start date.