Department of Physics and Astronomy, Faculty of Science

The development of advanced and super-resolution microscopy has opened a new frontier in how scientists study biological systems and develop new approaches in medicine. Whether your background is in biological science, physical sciences, medicine or engineering, this course is designed to train you to use the technologies behind these state-of-the-art techniques.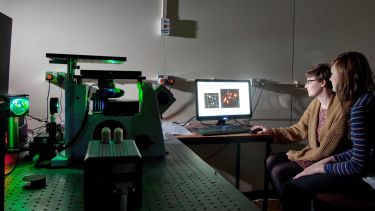 Course description
At the start of the course, each week is devoted to a different microscopy technique. In the first half of the week, you will learn the theory behind a technique, then get practical training so that you can learn how to use specialist equipment to capture detailed images of biological systems. Finally, analyse and write up the data you have produced, often by learning to use code to programme your own analysis tools.
Once you have practiced a range of techniques, you will choose a topic for your own research project. The project will take up one-third of your course and you will be supported by a supervisor either based in the Department of Physics and Astronomy, in one of the University of Sheffield's biology departments, or with one of our partners in industry. They will provide advanced training in the microscopy techniques your project is based on.
Not only is the course great preparation for a PhD, but we have close links with companies in the microscopy industry, such as Nikon and Zeiss, who are designing the latest cutting-edge technologies. Organisations such as these will support your learning by giving guest lectures, designing research projects for you to tackle and providing insights into the jobs that you can be qualified for after graduation.
Intercalation
We accept medical students who wish to intercalate their studies. Find out more on the Medical School's website.
Modules
Core modules
Imaging Life

Imaging Across the Disciplines

Theory and Practical Application of Imaging

Image Analysis

Imaging Project
Teaching
You will be taught through a series of lectures, seminars, laboratory classes, computing classes and your research project
Assessment
You will have written, laboratory and computer assignments in addition to your dissertation and viva. You will also take part in problem-solving at an industry level.
Duration
1 year full-time
Entry requirements
A 2:1 honours degree in physics or biology.
We also accept medical students who wish to intercalate their studies.
English language requirements
Overall IELTS grade of 6.5 with a minimum of 6.0 in each component, or equivalent.
You can apply for postgraduate study using our Postgraduate Online Application Form. It's a quick and easy process.
The course information set out here may change before you begin, particularly if you are applying significantly in advance of the start date.