Crossways in Cultural Narratives
School of Languages and Cultures, Faculty of Arts and Humanities

Our courses are about overcoming language barriers. An MA from Sheffield prepares you for a career in a multilingual workplace.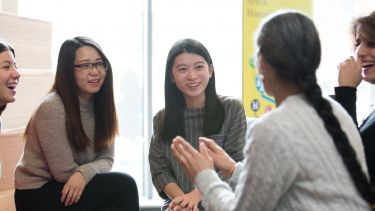 Course description
This ERASMUS-MUNDUS Masters programme is a truly international course: EU funded, multilingual, multidisciplinary and taught by a consortium of European and North and South American universities.
Literature is the main subject. The approach is comparative. There are also modules in aesthetics, the history of ideas, semiotics, linguistics and communication.
You'll study at three of the participating universities. They are:
University of Sheffield, England
University of Bergamo, Italy
New University of Lisbon, Portugal
University of Perpignan, France
University of Poznan, Poland
University of St Andrews, Scotland
University of Santiago de Compostela, Spain
University Iberoamericana, Mexico
University of Guelph, Canada
Entre Rios University, Argentina
You can't apply directly to Sheffield for this course. For further information visit www.munduscrossways.eu
Modules
Core modules
No core modules
Optional modules
These include:
Approaches to Literature and Cultural Studies

Spanish Culture and Literature

Spanish American Literature and Society

Catalan Culture and Literature

Contemporary Portuguese Language and Literature

20th-Century German Literature

Concepts and Approaches in Translation Studies

Concepts and Approaches in Intercultural Communication

Intercultural Communication in Practice

Approaches to Translation Genres
In addition you can choose from a range of modules from the School of English and the Department of History, subject to availability. You can also take language-learning modules and an internship option is available.
Teaching
Teaching takes place through lectures, seminars, small-group work and workshops.
Assessment
You'll be assessed by essays, practical information technologies projects and a dissertation.
Duration
2 years full-time
You can't apply directly to Sheffield for this course.
The course information set out here may change before you begin, particularly if you are applying significantly in advance of the start date.