Department of Computer Science, Faculty of Engineering

Our project-based courses give you valuable hands-on experience. We teach you how to apply what you learn in business and industry, anywhere in the world.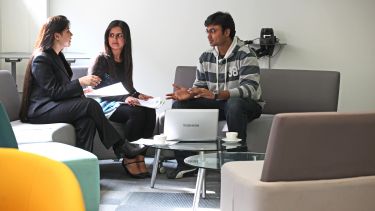 Course description
The MSc Data Analytics is designed for students with a numerate background (for example first degree in Mathematics, Economics, Accounting, Engineering, Physics or Chemistry) as well as graduates already working in industry.
The programme focuses on managing vast amounts of information and transforming it into actionable knowledge. It teaches the key skills that are required to carry out practical analysis of the types of data sets that need to be interpreted in the modern world. These include large data sets as well as structured and unstructured data. The programme makes use of techniques developed within a range of disciplines, including computer science, artificial intelligence, mathematics and statistics.
Applying for this course
Due to the popularity of this course we have introduced a staged admissions process to assess applications for entry in September 2019. You'll still apply in the usual way, using our Postgraduate Online Application Form.
Modules
Core modules
Scalable Machine Learning
Text Processing
Machine Learning & Adaptive Intelligence (in Python)
Natural Language Processing
Industrial Team Project
Individual Data Analytics Dissertation
Professional Issues
Statistical Data Science in R
Optional modules
Students have the option to take either Computer Security and Forensics, or Parallel Computing with Graphical Processing Units (GPUs).
Teaching
We use lectures, tutorials and group work.
Assessment
Assessment is by formal examinations, coursework assignments and a dissertation.
Duration
1 year full-time
Within 3 months of starting the course I secured a graduate placement as a Technology Analyst at Barclays for after my masters, which I would not have got if I had not studied this course!
Entry requirements
Minimum 2:1 honours degree in a numerate discipline (mathematics, economics, accounting, engineering, physics, chemistry) and A Level mathematics.
English language requirements
Overall IELTS grade of 6.5 with a minimum of 6.0 in each component, or equivalent.
We use a staged admissions process to assess applications for this course. You'll still apply for this course in the usual way, using our Postgraduate Online Application Form.
The course information set out here may change before you begin, particularly if you are applying significantly in advance of the start date.