Digital Media and Society
Department of Sociological Studies, Faculty of Social Sciences

You aim to understand the human world, where you fit into it and how you can help other people. As one of the UK's top ten research departments in our field, we can help you to achieve your goals.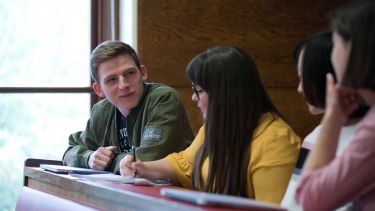 Course description
Drawing upon staff expertise in digital media and digital society, this programme will give you a grounding in aspects of digital media, allowing you to specialise in a specific area, or develop your understanding of all of the following: Researching digital society, digital practices, and digital methods.
As a student within the Faculty of Social Sciences, you will also benefit from the research and training activities of both the University's Sheffield Methods Institute and the faculty-wide Digital Society Network. The latter brings together interdisciplinary researchers engaged in research at the cutting-edge of society–technology interactions.
Applying for this course
We use a staged admissions process to assess applications for this course. You'll still apply for this course in the usual way, using our Postgraduate Online Application Form.
Modules
Core modules
These include:
Perspectives on Digital Society 
Digital Methods 
Social Media, Data and Society 
Dissertation in Digital Media and Society
Researching Society 
Optional modules
These can include:
Intimacy and Personal Relationships

The Sociology of Surveillance

Digital Health

The Sociology of Culture and Identity

Digital Identities

Visual Methods for Social Scientists

Media, Culture and Society in East Asia

Media, State and Society in China

Theory and Debates in Food Security and Food Justice

Researching Social Media

Information, Governance and Ethics

Digital Advocacy

Digital Practices
Assessment
Assessment varies across modules and will include a combination of coursework (essays, portfolio and practical work). Formal examination may be required for some optional modules. Students are also expected to complete a dissertation-length project equivalent to 15,000 words in length.
Duration
1 year full-time
2 years part-time
The course has enabled me to learn practical skills and think critically. I've learned to use different tools for data scraping, data mining, data visualisations and to conduct research using qualitative and quantitative methods. I then analyse the results from a social and cultural perspective.
I am going back to China after the course ends. My plan is to find a job that is related to the media so I can use the skills I have gained.
MA Digital Media and Society
Entry requirements
The minimum entry requirement is a 2:1 honours degree, or equivalent, in a relevant discipline.
English language requirements
Overall IELTS grade of 6.5 with a minimum of 6.0 in each component, or equivalent.
I've been studying and making digital media since they came along in the mid-1990s. I love using and engaging with digital media, from apps and social media platforms to data visualisations, but their place in society is not straightforward. They can be a force for the good, or not. They're shaped by the world from which they emerge, and this isn't always a good thing.
I'm passionate about understanding this relationship between digital media, society and everyday life, and about sharing that learning journey with my students.
Professor of Digital Society
We use a staged admissions process to assess applications for this course. You'll still apply for this course in the usual way, using our Postgraduate Online Application Form.
The course information set out here may change before you begin, particularly if you are applying significantly in advance of the start date.