English Language and Linguistics
School of English, Faculty of Arts and Humanities

This course is designed to balance a diverse range of language study with the opportunity to explore more specific fields. You'll explore the sociocultural, historical and structural complexities of the English language, with the option to study other modern languages as well.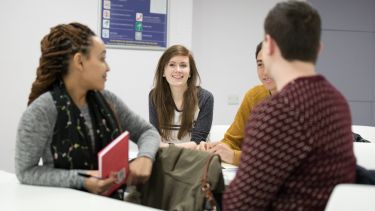 Course description
This MA offers world-leading expertise in all areas of English language and linguistics, giving you the best possible support for your interests on any topic.
You'll benefit from our expertise in many fields, from language variation and change, psycholinguistics and syntax, to conversation analysis, dialectology and the language–literature interface.
The course will deepen your existing knowledge of the field and provide ideal preparation for research study at MPhil/PhD level, if that's your goal.
There are four flexible pathways available within the course, and you can follow one exclusively or combine different areas of study.
Literary Linguistics Pathway
This pathway examines a range of approaches to literary linguistic study including cognitive poetics, corpus stylistics and narratology.
Social and Historical Approaches Pathway
This pathway investigates complex real-world language problems in different social and historical contexts.
Structural and Theoretical Linguistics Pathway
This pathway explores the foundational mental structures and processes underlying language.
Modern Languages Pathway
As your understanding of theory develops, you'll learn how to analyse language and how to carry out research projects. If you choose a work placement, you might also develop skills in marketing, archiving, teaching or publishing.
This MA can help develop the range of transferable skills at your disposal, giving you a wide variety of career options. Some of our modules have been designed specifically to provide opportunities for reflecting on the role of English in the public sphere and to enable you to develop different kinds of skills and experience.
---
The course includes mix of core and optional modules. In addition, you'll research your own interests by completing a 15,000 word dissertation.
Modules
Core modules
Research Methods

Dissertation
Optional modules
Linguistics in Context

Linguistics in Practice

Research Practice

Literary Language: Narrative and Cognition

Literary Language: History and Culture

Work Placement with Research Project
You also have the option to choose modules (dependent upon yearly availability) from other postgraduate programmes in the University, such as English Literature, School of Languages and Cultures, History, or Human Communication Sciences.
Teaching
You'll be taught through seminars and workshops. There are also work placement opportunities in schools, museums, libraries or local businesses. During your dissertation you'll be supervised by one of our academic staff, who'll provide you with guidance on your topic and methodology. You'll have access to a dedicated computer room for students.
You'll learn from enthusiastic staff who publish internationally. You'll also have access to weekly research seminars, giving you the chance to hear about the latest developments in the field.
Assessment
Assessment varies by module, but includes essays and presentations.
Duration
1 year full-time
2 years part-time
Entry requirements
A minimum 2:1 undergraduate degree in linguistics, English language and/or literature, or a modern language.
English language requirements
Overall IELTS grade of 7.0 with a minimum of 6.5 in writing and 6.0 in the other components, or equivalent.
Fees and funding
There are a number of studentships and fee bursaries available, funded by either the University or the Arts and Humanities Research Council. Deadlines for funding applications are usually in winter/early spring.
I have always been interested in social variation and have been keen to find ways to address social inequality. Using language as a measure of social difference, it is possible to provide empirical data that can be used to challenge prejudice and evaluate social change.
Teaches: Linguistics in Context; Linguistics in Practice; Research Methods.
You can apply for postgraduate study using our Postgraduate Online Application Form. It's a quick and easy process.
The course information set out here may change before you begin, particularly if you are applying significantly in advance of the start date.