Department of Animal and Plant Sciences, Faculty of Science

If you have a strong interest in biology, and a passion for creating and refining our knowledge about the living world, then a masters degree is excellent preparation for a career in research or industry.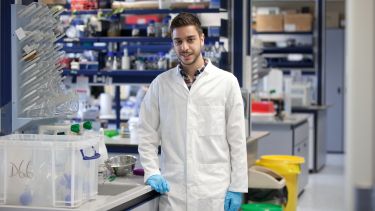 Course description
The connection between how organisms have evolved and how they behave is a fundamental principle of biology. It can show us why organisms are the way they are, and answer deep questions about the diversity of life on earth.
The course is uniquely research-focused and, over 12 months, you'll be embedded in one of our research groups. Our world-class research in this area spans topics including animal behaviour, molecular ecology, sexual selection and sexual conflict, speciation, the evolutionary genomics of adaptation, evolutionary developmental, ecological immunity, and bioinformatics and life history evolution, giving you the opportunity to contribute new knowledge in an area of evolution and behaviour that interests you most.
How to apply
Because of the research-intensive nature of this course, we ask you to include a short supporting statement with your application. This should explain how your interests and experience relate to the evolution and behaviour research we do in the Department of Animal and Plant Sciences, including which particular supervisors or research groups you would be most interested in working with.
Modules
Core modules
Research Project
Literature Review 
Science Communication for Researchers
Scientific Skills and Project Management
The research project accounts for two-thirds of your final grade.
Teaching
Teaching is via:
Working in a research laboratory or on a field-based research project
Tutorials
Discussion groups
Attendance at seminars
Statistics and other workshops
Assessment
Assessment includes, but is not limited to:
Project report
Literature review
Critiques
Short reports and essays
Oral presentations including a viva
Duration
1 year full-time
Entry requirements
At least a 2:1 honours degree or equivalent in biology or a closely related quantitative subject. In addition you should be able to demonstrate evidence of aptitude and enthusiasm for research (eg an undergraduate research project).
English language requirements
Overall IELTS grade of 6.5 with a minimum of 6.0 in each component, or equivalent.
Because of the research-intensive nature of this course, we ask you to include a short supporting statement with your application. Please see the course description above for more details.
The course information set out here may change before you begin, particularly if you are applying significantly in advance of the start date.