MSc
PG Certificate
PG Diploma
The Medical School, Faculty of Medicine, Dentistry and Health

Enhance your career with a masters in a specialist field. Our courses are backed by world-class interdisciplinary research.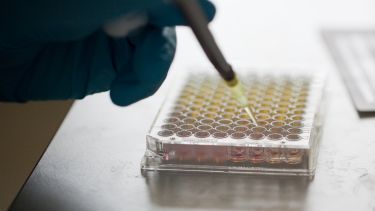 Course description
Lead academics: Dr Janine Kirby and Dr Dennis Wang
This course draws on expertise from three University faculties – Medicine, Dentistry and Health, Science, and Social Sciences – and the Sheffield Genetics Diagnostic Service (Sheffield Children's Hospital NHS Foundation Trust). It's aimed at students as well as professionals from healthcare and science backgrounds. The syllabus, as outlined by Health Education England (HEE), covers the scope and application of genomics in medicine and biomedical research as well as the ethical, social and legal issues relating to this field.
The course is taught by academics, scientists and clinicians. Techniques range from lectures and tutorials to laboratory workshops and online learning packages. You'll get first-hand experience of hypothesis-driven research by carrying out your own project in genomic medicine.
Intercalation
We accept medical students who wish to intercalate their studies. Find out more on the Medical School's website.
Modules
Core modules
Fundamentals in Human Genetics and Genomics

Omics Techniques and their application to Genomic Medicine

Genomic of Common and Rare Inherited Diseases

Molecular Pathology of Cancer and application in cancer diagnosis, treatment and monitoring

Bioinformatics, Data Interpretation & Data Quality Assurance in Genomic Analysis

Research Project
Optional modules
Pharmacogenomics and stratified healthcare

Application of genomics in Infectious diseases

Introduction to counselling skills used in Genomic Medicine

Advanced Bioinformatics - Clinical Bioinformatics and Personalisation of medicines
Teaching
The MSc Genomic Medicine offers a wide range of delivery methods for providing theoretical knowledge, from lectures, laboratory sessions and tutorials to computer-based analysis workshops as well as the opportunity to gain input from internationally renowned experts in their fields.
The inclusion of problem-based learning is embedded within the course and features in combinations of online and in-person interpretive class formats. Tutorials, seminars and individual meetings with staff provide opportunities for discussion and feedback. Each of the departments delivering the programme fosters an environment that provides many opportunities for individual and group learning.
PG Diploma, PG Certificate and Continuing Professional and Personal Development (CPPD) options are available as entry and exit options on both a full-time or part-time basis.
Duration
1 year full-time
2 years part-time
Entry requirements
The course is aimed at UK/EU/International students with minimum of a 2:1 in a relevant scientific degree, intercalating medical students and NHS colleagues from suitable healthcare backgrounds.
English language requirements
Overall IELTS grade of 7.0 with a minimum of 6.0 in reading, 6.0 in writing, 7.0 in listening and 6.0 in speaking, or equivalent.
You can apply for postgraduate study using our Postgraduate Online Application Form. It's a quick and easy process.
The course information set out here may change before you begin, particularly if you are applying significantly in advance of the start date.