Human and Molecular Genetics
Department of Molecular Biology and Biotechnology, Faculty of Science

We're working with organisations all over the world, finding new ways to meet the global challenges of food security, antibiotic resistance and healthy ageing.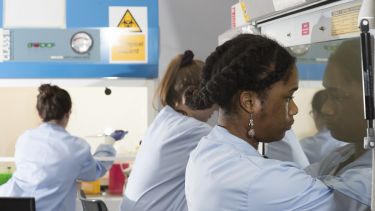 Course description
This MSc gives students excellent postgraduate training, and leads to exciting careers in research, industry, the NHS and other clinical institutions. Many of our graduates have also gone on to study bioscience at PhD level.
You'll develop an in-depth knowledge of medical and molecular genetics, and receive clinical genetics training to prepare you for a research project in a modern research facility. You'll have the chance to collaborate with top genetics research laboratories and clinical partners.
This MSc was developed in partnership with the Sheffield Diagnostic Genetics Service (SDGS), which is a world-renowned clinical genetics facility. This relationship is unique to this course and gives you the opportunity not only to be taught by the SDGS Director and the Lead Scientist for Constitutional Genetics but also to complete a clinical work placement with the service.
Intercalation
We accept medical students who wish to intercalate their studies. Find out more on the Medical School's website.
Modules
Core modules
Advanced Research Topics

Laboratory Techniques in Molecular Bioscience

Literature Review

Research Project
Optional modules
Choose three from:
Genome Stability and Genetic Change

The Genetics of Human Disease

Human Fertility and Reproduction

Genomic Science

Stem Cell Biology

The RNA World

Genetic Pathways from Zygote to Organism
Teaching
Our masters courses give you a solid grounding in experimental science, with personal supervision and tutorials by experienced scientists, based in modern and well-equipped labs, leading on to a research project in which you design and conduct your own research. You will learn cutting edge science from research leaders, and gain practice in reading scientific literature and writing reports.
Assessment
Assessment is based on a combination of coursework, project work, formal examinations and a dissertation.
Duration
1 year full-time
I believe the analytical skills and techniques I have learned so far have helped me to stand out in my application for the NHS Scientist Training Programme and were critical in landing me a job in this competitive career!
MSc Human and Molecular Genetics
Entry requirements
A 2:1 degree or equivalent university qualification in molecular biology or a related subject (eg biochemistry, genetics, biotechnology, and microbiology). We also accept medical students who wish to intercalate their studies.
Candidates with professional experience may also be considered following interview.
English language requirements
Overall IELTS grade of 6.5 with minimum of 6 in each component, or equivalent.
You can apply for postgraduate study using our Postgraduate Online Application Form. It's a quick and easy process.
The course information set out here may change before you begin, particularly if you are applying significantly in advance of the start date.