Department of Music, Faculty of Arts and Humanities

Management School, Faculty of Social Sciences

We combine theory with live projects to give you a real taste of what it takes to succeed in music management. The course brings together experts from our music department and management school, and from the creative and cultural industries.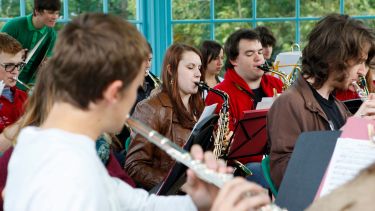 Course description
Prepare to become one of the next generation of music industry leaders with this degree. You'll specialise in your areas of interest while gaining wider insight into the principles and strategies of management across the creative industries.
The course is taught by the Department of Music and the Management School. It is suitable for those looking to launch a management career in the music industry and for music creators wishing to enhance their prospects of success.
You can choose modules in management practices (finance, marketing, entrepreneurship) and specialise in several areas of arts management (festival management, music branding, audience development, arts funding). This means you can tailor the course to your strengths and interests, while your final dissertation project will take your knowledge and skills to the next level.
Practical work is embedded in our course and we have close working relationships with a range of arts organisations, including Music in the Round, in a city with a thriving music and cultural scene.
We have exceptional facilities and opportunities to support your learning, such as rehearsal, performance and practice spaces. Through the University of Sheffield Concerts Series you can get involved in staging events, and we support a local and international placement scheme.
As the music industry rapidly changes, private and public sector organisations are looking for graduates who can bring a high degree of flexibility and critical insight. Our MA provides you with the essential knowledge, skills and experience you need to be a future leader in this environment.
Teaching
Seminars and individual tutorials. Projects may see students undertaking consultancy and promotions work with national partners.
Assessment
 Assessment takes a variety of forms such as reports and essays.
Duration
1 year full-time
2 years part-time
Entry requirements
You'll need a 2:1 in music or a combined degree with a substantial music or management component.
Degrees in other related subjects may be acceptable depending on your background.
English language requirements
Overall IELTS grade of 6.5 with a minimum of 6.0 in each component, or equivalent.
Fees and funding
University and faculty funding is available each year. The closing date for applications is mid-January. The department has a small number of tuition studentships available. The closing date for these is the end of April. You can also apply for a small grant to support your postgraduate research project.
Funding information on the Department of Music website
You can apply for postgraduate study using our Postgraduate Online Application Form. It's a quick and easy process.
The course information set out here may change before you begin, particularly if you are applying significantly in advance of the start date.