Department of Psychology, Faculty of Science

Working closely with specialist scientists, you'll develop the skills to investigate and understand human behaviour.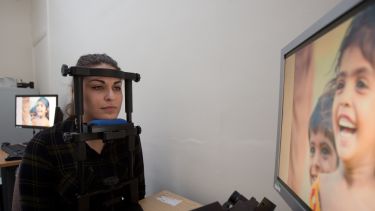 Course description
It's widely recognised by modern neuroscience that taking a systems approach to exploring the brain is vital to understanding brain function.
Systems neuroscience focuses on the interactions between neural structures in networks that give rise to sensori-motor control and information processing, and it's these interactions that provide us with a foundation for understanding the relationship between brain structure and brain function in the context of the cognitive, perceptual and motor mechanisms that underpin behaviour.
To develop our understanding of this relationship we need to integrate experimental and theoretical approaches. That's why the MSc Systems Neuroscience course has been designed to provide you with interdisciplinary training in cutting-edge approaches to understanding how brain cells interact in networks to contribute to function and behaviour.
Intercalation
We accept medical students who wish to intercalate their studies. Find out more on the Medical School's website.
Modules
Core modules
Fundamentals of Neuroscience

Computational Neuroscience 1

Applied Neuroanatomy and Clinical Neuroscience

Systems Neuroscience

Data Analysis and Visualization and Research Project in Cognitive Neuroscience.
Students will also study two modules in either Pathway 1 or Pathway 2:
Pathway 1: Neuroimaging 1 and Neuroimaging 2
Pathway 2: Fundamentals of Cognition and Computational Neuroscience 2
Teaching
Teaching is through lectures, seminars, laboratory classes and individual projects.
Assessment
You'll be assessed through formal examinations and coursework which may include essays, poster presentations and a dissertation.
Duration
1 year full-time
Entry requirements
A 2:1 honours degree or equivalent qualification in either a life science or mathematical/physical science.
We also accept medical students who wish to intercalate their studies.
English language requirements
Overall IELTS grade of 6.5 with 6.0 in the other components, or equivalent.
You can apply for postgraduate study using our Postgraduate Online Application Form. It's a quick and easy process.
The course information set out here may change before you begin, particularly if you are applying significantly in advance of the start date.