Advanced Clinical Practice (Paediatrics)
Division of Nursing and Midwifery, Health Sciences School, Faculty of Medicine, Dentistry and Health

Designed for experienced clinical practitioners, this course gives you the specialist knowledge and skills you need to advance clinically and professionally.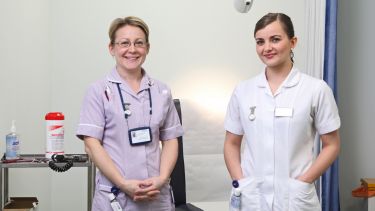 Course description
This course is for experienced, registered health and care practitioners delivering advanced clinical practice, who wish to learn advanced skills in the management of episodes of care for their client group. It can be studied either as a standard masters degree or via an apprenticeship route.
Paediatric Advanced Clinical Practitioners (ACPs) work with babies, children, young people (CYP) from 0 to 18 years of age and their families in a range of settings across primary and secondary care. Paediatric ACPs can undertake acute or ongoing assessment of health and social needs, manage children with complex needs and act as senior decision makers.
The course encompasses the four pillars of advanced practice: clinical practice, leadership and management, education and research. On successful completion of the programme, you'll demonstrate the core advanced practice capabilities and paediatric clinical competence. The course includes a clinical leadership module, which ensures that service design, delivery and patient safety remain at the forefront of your clinical working.
ACPs working with children and young people will learn the knowledge, skills and behaviours to become clinical leaders of paediatric practice and to play a pioneering role in multidisciplinary teams. As an ACP, you'll be a dynamic practitioner making advanced decisions about practice, leadership and management.
The programme content is delivered by a range of expert practitioners and experienced academics. A dynamic combination of underpinning knowledge and supervised clinical practice will ensure that you have the capabilities to work as an Advanced Clinical Practitioner on successful completion of the programme.
Apprentice route
The Advanced Clinical Practice (Apprentice) apprenticeship is a part-time integrated three-year degree apprenticeship masters programme. ACP apprentices are employed by their organisation for a minimum of 30 hours per week to undertake a job with training to recognised industry standards.
The closing date for apprentice applicants to be interviewed and confirmed by employers is Friday 14 August 2020.
Modules
Teaching
You'll be taught via lectures, skills workshops, simulations, seminars, case based discussions, supervised clinical practice, tripartite reviews and reflection.
Assessment
There are a varied range of assessments, which include case presentations, reports, examinations, OSCEs, oral presentations, essays and a specialist electronic portfolio.
Duration
3 years, part-time
The induction day is on 23 September 2020. Details of dates for the academic year to follow.
Your career
After successfully completing your course, there are a wide variety of roles you can pursue, including:
Nurse consultant
Research nurse
Matron
University teacher
Transport lead
Past students have gone on to work in a variety of health settings such as the NHS, The Resuscitation Council and the Department of Health, as well as UK universities.
Entry requirements
You will have a good (2:2 or above) bachelors degree in a related health discipline, for example nursing, physiotherapy, paramedic science, pharmacy
A minimum of a grade C in GCSE English Language and Maths or equivalent
Be a qualified UK registered healthcare professional, working in the pathway specific area for a minimum of two years
Hold a current relevant employment contract in the pathway specific setting for the duration of the programme for a minimum of 30 hours per week
Be able to provide evidence of support from a manager and a lead consultant/general practitioner
English language requirements
Overall IELTS score of 6.5 with a minimum of 6.0 in each component, or equivalent.
Fees and funding
Apprenticeship route
Full funding for the cost of the apprenticeship programme fee is available for levy-paying employers (up to the relevant funding cap).
Partial funding for the cost of the apprenticeship programme fee is available for non levy-paying employers (up to the relevant funding cap). The government will fund up to 90 per cent of the apprenticeship programme fees
MMedSci
MMedsci: apply for postgraduate study using our Postgraduate Online Application Form.
Apprenticeship route: you'll need to apply using our Alternative Routes and Programmes Online Application form.
The course information set out here may change before you begin, particularly if you are applying significantly in advance of the start date.